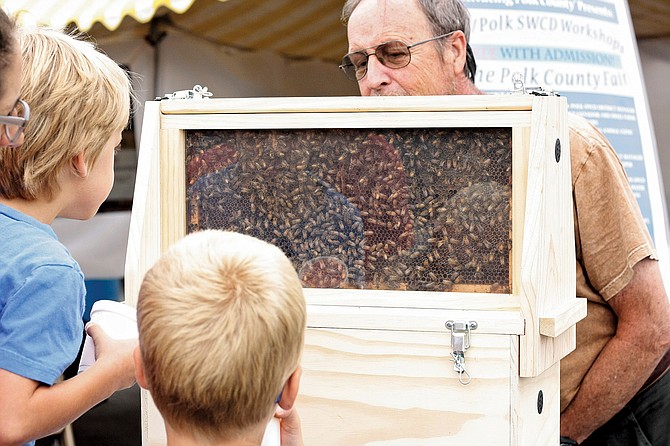 RICKREALL — George Woodward likes Oregon honeybees.
OK, so technically, honeybees aren't native to Oregon or the United States, but they have been beneficial since being introduced.
Woodward, a master beekeeper, speculates bees imported from states like Hawaii and California react to Oregon the way people do — thinking it's beautiful and plant-filled, but what's with all the dreary rain?
"I figure they are beach bums," he said. "They are used to warm weather."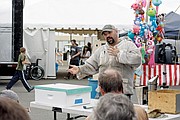 He gets his bees from people who raise them in the Willamette Valley. Woodward talked about his "more than hobby" at the Polk County Fair on Friday and Saturday at the Polk Soil & Water Conservation District booth.
Bee trivia
• Queen bees can lay up to 2,000 eggs per day.
• Queens can choose to lay male (unfertilized) or female (fertilized) eggs.
• The theory is that bees swarm because of lack of room in the hive, specifically a lack of room to lay eggs. The hive divides in half and one half leaves with the queen bee, while the other stays with a new queen.
• When a hive is getting ready to swarm, often the queen is too heavy to fly, or is "a big fat bee" as Woodward puts it. The hive stops feeding the queen and chases her around until she's trim enough to fly.
• Bees get more aggressive in late summer when honey production slows down and they want to conserve their resources.
• When bears get into hives, they aren't looking for honey — contrary to popular belief — but the larvae as a source of protein.
• Clever skunks will scratch the side of a hive to draw the bees out and eat the bees as they emerge. Clever beekeepers place their hives just out of reach of skunks and other predators looking for a meal.
He picked up beekeeping out of curiosity. Members of his family had been beekeepers, so he decided to give it a go.
Woodward found a mentor while picking up his Christmas tree several years ago. He noticed a bee box at the tree farm.
Woodward asked the owner about the bees, but the tree farmer said: "Ah. You don't want to do bees" and walked away. The next year, the farmer did the same thing.
Finally, on his third try, Woodward got the tree farmer to talk about bees.
"He said, 'You want to do bees, come back after Christmas,' so I came back after Christmas," he said.
Woodward said the farmer sat down with him and helped him pick out equipment and gear from supply house Mann Lake.
Woodward bought two hives and was off and running. During the first year, some of his queen bees fell victim to what could be described as helicopter parenting.
"I was in my bees all the time," he said. "Sometimes every other day or at least once a week, I would get in there to check them out to see how they were doing."
It was too much. He ended up killing a few of his queens.
He learned a few more lessons on the way, such as how easy it is to turn two hives into eight without meaning to.
Early in his beekeeping days, his backyard hives were getting out of hand. One was about to swarm, meaning half the hive was getting ready to fly off with the queen and find a new home. At that point, he was limited to five hives.
"I'm in West Salem with a backyard beekeeping permit," he said. "They actually have laws about this stuff."
He and his mentor rearranged his hives before the bees swarmed, but then they had another problem. After moving the bees around, he had eight hives, more than allowed in a backyard.
"My wife's like, 'umm, that's illegal,'" Woodward recalled.

Four years into his hobby, he spends two days each week working with his bees — he's also a full-time electrician — and maintains a bee yard on a 41-acre property off Kings Valley Highway.
As a DIY kind of guy, he's quite happy with his honey-making hobby.
Those who are interested can order equipment and bees from supply houses. He recommends getting a suit, smoker, hive tool, hive box and feeder to start out with. You can customize your equipment as much as you want from there.
He said keepers can find more bees by putting themselves on a list to collect swarms when people call to have them removed from their property.
His advice is to find a local beekeeper who is selling what are called nucleus colonies or "nucs" that have hive and queen that are already compatible. Packaged bees can sometimes reject the queens placed with them — and local nucs come with another benefit.
"They know what they are getting into with the rain and what we've got for weather," Woodward said.

Most important, Woodward said would-be beekeepers should attend "bee school."
Most beekeeping clubs offer it in some fashion. Chemeketa Community College has a three-night course to teach you about what you are in for.
"Excellent head start," Woodward said. "They really give you a hand up. ... They cover everything under the sun."
For more information about beekeeping: Willamette Valley Beekeepers Association: wvbahive.org/.
For more on pollinators, see next week's I-O.
More like this story