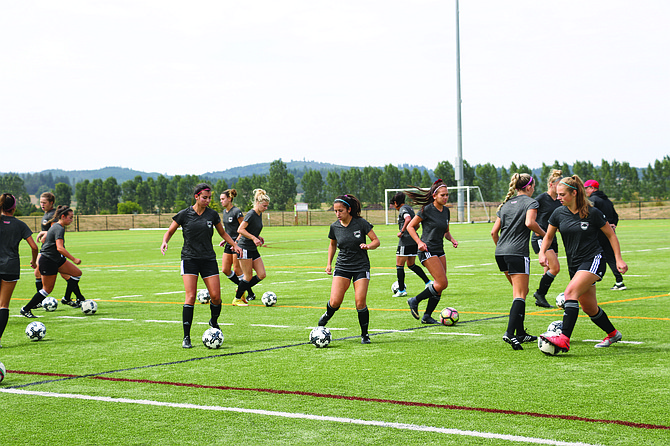 MONMOUTH — Western Oregon's soccer program showed flashes of potential in 2016, but finished 5-11-1 overall.
Coach Steve Ancheta sees reasons to be excited about the 2017 campaign.
"I think we brought in a nice, quality class (of 11 new players)," Ancheta said. "We brought in a lot more depth to the program that will give us versatility and play players at different positions. Depth is also important in dealing with any injuries during the season. I think we're stronger in a lot of different ways."
Sophomore goalkeeper Caitlin Kastelic started 17 matches as a freshman and earned all-conference honorable mention.
"I think Caitlin is ready to have another great season," Ancheta said.
Midfielder Meli Cortez and defender Kai Mahuka, the team's lone seniors, will provide critical leadership, Ancheta said.
"They've been around the block a little bit," Ancheta said. "They are ready to have a good season."
Outside of that, Ancheta said every starting positions is up for grabs.
"I think there will also be opportunities for some other players," Ancheta said. "We're looking for big things from the whole team."
Expect to see different lineups early in the season, as Ancheta tinkers with players in different spots.
Once the Great Northwest Athletic Conference season begins, the Wolves will have little room for error.
"I think there are a couple parts to being successful (in league play)," Ancheta said. "We've got to play really well. We've got to win some games on the road. We definitely play better at home than on the road. We need to get a little bit of luck. I know that's a funny thing to say, but there were a few matches last year where we had chances to win and hit the bar. The last part is we've got to stay healthy. Last year, we had six quality players out for almost four matches. The season is too short (to deal with that)."
Western Washington, WOU's conference-opener, won the NCAA Division II national championship in 2016.
Players know the GNAC is an unforgiving conference, but are excited for the challenge.
"I think it's about grit for us," Cortez said. "We have to keep pushing through. Opening with Western Washington, that will be a great challenge for us and hopefully we can get that upset."