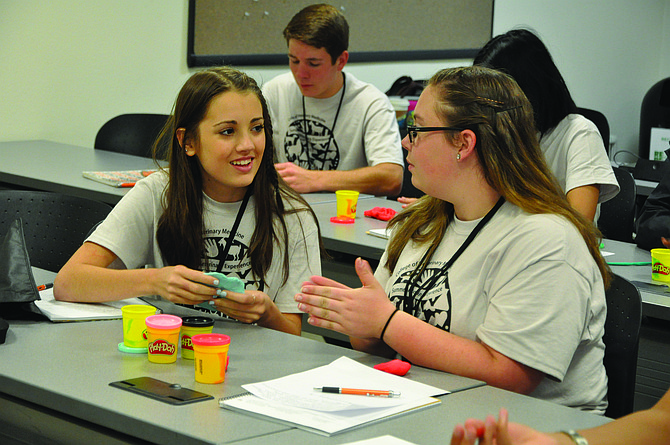 CORVALLIS — After wrapping up at the Polk County Fair on Sunday, Dallas FFA and 4-H club member Josephine Bennett packed her bags and drove to Corvallis for the Oregon State University Summer Veterinary Experience — a week-long program where high school juniors and seniors live on campus and learn about veterinary medicine.
This is the sixth year the program has been held and the first year that applications have been open to students outside of Oregon. Though more than 100 students from around the world applied for the experience, only 24 were admitted: Bennett, a Dallas High School senior, among them.
The program is designed to give students a better understanding of what a future in veterinary medicine looks like, explained program coordinator Tess Collins, OSU's coordinator of admissions.
"The reason for starting this whole program was to provide a chance for students who might not otherwise get a chance to learn about (veterinary medicine) to get a really cool, hands-on experience," Collins said. "And, also, just some exposure to college."
This week, the high-schoolers will live in the dorms, eat in the dining halls and learn about college lab procedure.
In classes, students will have a chance to learn from professors how to suture, how to perform physical exams on dogs, as well as learn about animal anatomy and physiology, among other things.
Outside of the classroom, they'll spend time with current OSU students who mentor them during the day by participating in fun group activities, like bowling and a movie night.
For Bennett, it's an exciting opportunity.
"I had been looking for a camp like this, that would show me all the things I wanted to learn and see and experience," Bennett said. "I'm really interested in being a vet, so I really wanted to see what college would be like and see what the OSU campus would be like. I also really wanted to be with a bunch of people that are really inspired to be a vet and have the kind of drive that I have to be one.
"(So far) I like it a lot, it's a lot of fun. I'm getting to meet new people and experience a lot of things. And we're learning about anatomy and physiology, which is right up my alley, so I'm excited about that."
For more information about the program, visit vetmed.oregonstate.edu/osu-summer-veterinary-experience.