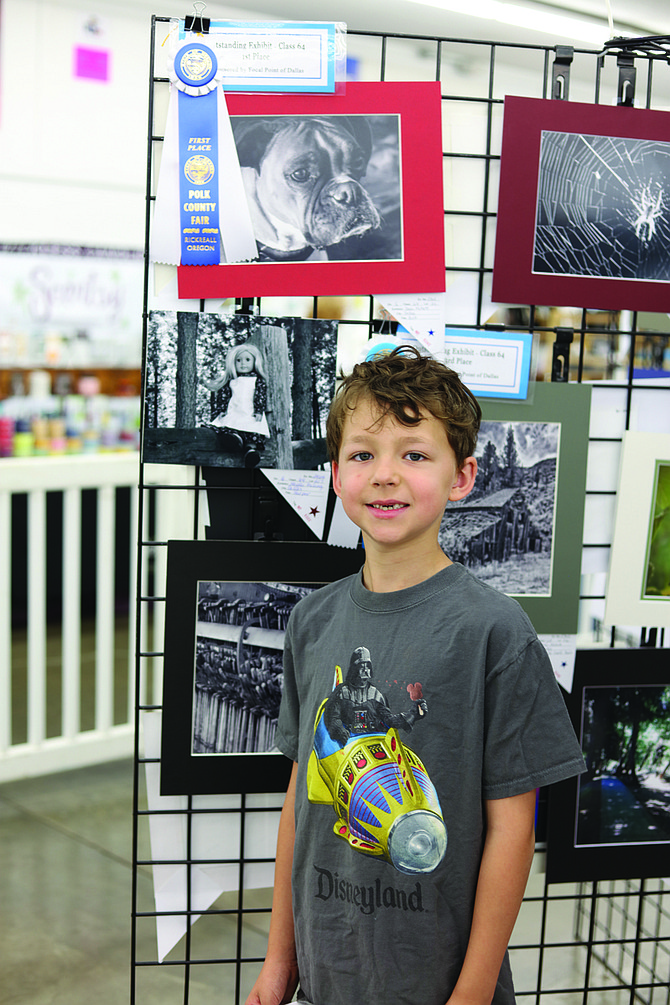 RICKREALL — Dasheill "Dash" McNett, 7, enjoys taking photos with his Canon Rebel — and, if the number of ribbons on his Polk County Fair submissions suggests anything, he has an eye for photography.
"I just do it because it's fun," he said.
His repertoire includes animals, people, landscapes and other various projects organized by the Dallas Photography Club. In one club-led experiment in water photography, you can barely make out a Lego Batman figure. The piece is titled "The Dark Knight Sinks."
Strolling through the photography exhibits at the fair, Dash's name can be found in each category.
Here, a panoramic shot of Oregon's Painted Hills. There, a collage of his soccer team playing a match.
"My mom and I decided which one was the best picture and put the rest around it," Dash said. "It was my soccer team."
Fortunately, his coach didn't mind him sitting that match out to practice his photography skills, Dash said.
His mom, Marita Barth, said she gave Dash his Rebel when she upgraded her own camera. Both using Canons, they can share lenses.
Dash won a first-place award at the fair for a portrait of his friend's dog.
"They said they would pay me for taking a picture," he said. So far, it's been his only paying job.
With his skills, it likely won't be his last.
Dash is pleased with how well he did at the fair — three ribbons, so far. He said he wasn't sure "participant" ribbons should count.
Barth said her son's work is very different from what she sees.
"I tend to dampen things, he's, 'Brighter! Louder!'" she said. "Both can still be good."
More like this story