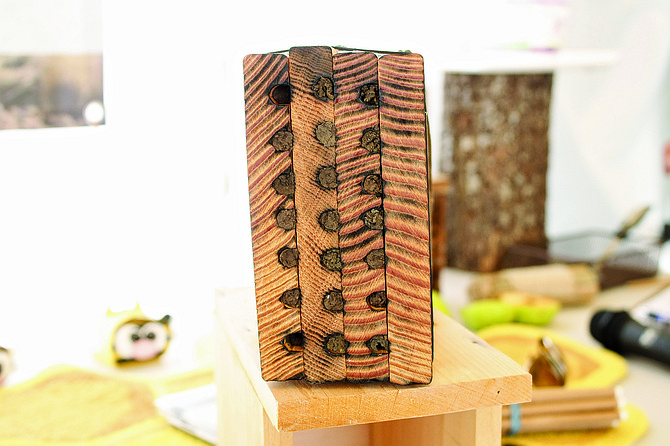 RICKREALL — If you want a super pollinator in your backyard, build a bee box and fill it with tubes perfect for mason bee nests.
The deep blue and fuzzy-looking bees are native to Oregon and "have ADD" when it comes to pollinating, says mason bee "keeper" Jerry Paul, with the Benton County Soil & Water Conservation District.
Paul and Heath Keirstad, also with Benton County SWCD, led a presentation on attracting native pollinators to your yard and garden at the Polk County Fair on Aug. 11.
Mason bees are solitary bees that nest in cracks and crevices in wood or rock, in beetle holes or hollow stems. They are early risers in terms of the time of year they are active, from March to June.
You can provide attractive nesting places for mason bees with a bee box and wooden tubes they can use to lay eggs. Providing mud, which they use to build nests — a skill that gives them their common name — helps encourage them as well.
Paul said you don't have to worry about mason bees hatching and then leaving your yard.
"A honey bee will go as far as 5 miles in order to find pollen and nectar," he said. "A mason bee will only go 200 feet, so you can confine what you want pollinated to your backyard. If you start to raise mason bees, you are not going to lose them to your neighbor."
Mason bee nesting tubes need to be unplugged and cleaned each year to prevent pollen mites and other predators and parasites. Mason bee cocoons can be harvested from nests and stored in the produce crisper of a refrigerator until temperatures warm up to between 50 and 55 degrees for multiple days — don't forget to check for mold and clean again, if needed.
Place them in release tubes near your nest box, and that process starts again. Other tips include avoiding pesticides and planting native plants.
Native bees are often solitary nesters, Paul said. Some are, like mason bees, and nest in holes and crevices. Others, like leaf cutter bees, nest in the ground. Providing them attractive nesting areas means not mulching all parts of your yard.
For more information on keeping mason bees and attracting other native pollinators: www.bentonswcd.org/
activities/landowners/bee-buddies/.