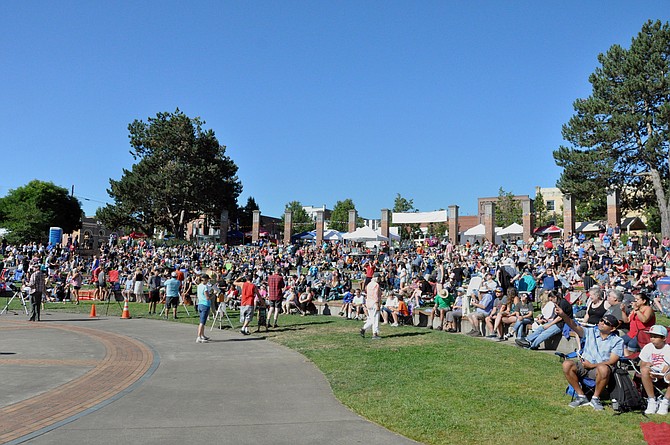 DALLAS — Dallas Mayor Brian Dalton rolled out the welcome mat early for those looking for a place to watch the Great American Eclipse.
He penned a welcome letter posted on the city of Dallas' website.
Rebecca Martin, of Los Angeles, saw that letter and it inspired her to bring her family to the Dallas area.
"It was very nice and inviting, saying 'come visit our small town,'" Martin said.
She found a campsite on a farm outside of town and visited Dallas' festivities on Sunday. Volunteers working at the event had anticipated larger crowds, but Martin thought it was perfect.
"This feels nice, though, not too crowded," she said.
The larger crowd that organizers and volunteers expected was to come later that night for the JukeBox Heroes and Steelhorse concerts. That seemed to be the pattern from the three nights of celebration, Dalton said.
Dalton said he wasn't sure the festival could have handled many more people and gave the eclipse celebration a high grade.
He would like to see the event — which required collaboration between the city, the Dallas Downtown Association, Dallas Area Visitors Center, and the owner of Pressed Coffee & Wine Bar — become a model for future events in Dallas.
"This brought the whole community together in way that I haven't seen in a long time," he said. "We can raise the bar for ourselves with good entertainment and a great time."
He added that the fun was shared with plenty of people from out of the area and even those from other countries.
Kim Brehm, the owner of Dallas Emporium, started keeping a list of where visitors came from on Saturday.
By Sunday afternoon Alaska, Pennsylvania, New York, South Dakota, Utah, Wisconsin, Maryland, Nevada, California, Washington, Montana and, of course, elsewhere in Oregon, were represented.
She will be placing pins on a map to show where this weekend's customers came from.
"There are people from Dallas who are skeptical," she said. "But they are here. They are being respectful of our city and streets."
Another bonus for her, and possibly other downtown businesses — they were buying things during their visit.
"It's given us a real boost," she said.
In Independence, Indy Goes Dark was well-attended throughout the weekend, but not so packed that people couldn't have a good time, said Shawn Irvine, the city's economic development director.
"We felt like it went really, very well," Irvine said. "There were nice, good, big crowds, but plenty of elbow room."
Monday morning, he estimated the crowd in town swelled to 5,000 to 7,000 people, and said that was just about ideal.
Downtown businesses reported healthy crowds and sales all weekend, he added.
"I went into the Three-Legged Dog and it was jammed, and he said it had been that way the whole weekend," Irvine said. "It was really a boon to the downtown."
As for the reason all those people were here, Monday's eclipse, Irvine said it blew away his expectations.

"It was spectacular," he said. "It's like a sci-fi movie, a giant hole just opens up in the sky."