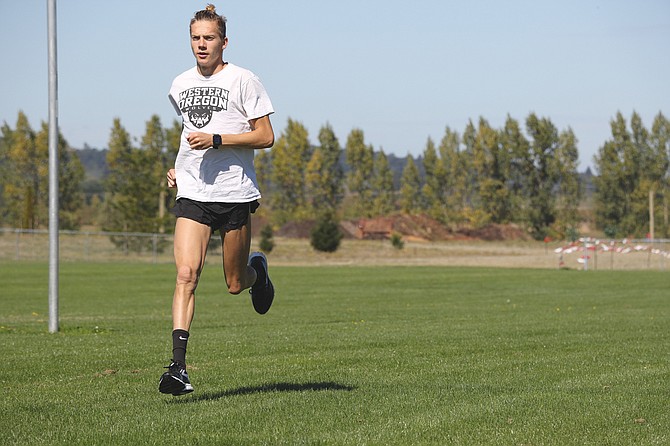 MONMOUTH — Western Oregon senior Kennedy Rufener enters the 2017 season as the Wolves' top women's cross-country runner.
But it wasn't always that way — far from it, in fact.
—
When Rufener graduated from high school, she figured her running career was over.
Her senior year of high school, her season best in the 5-kilometer race was 24 minutes, 38 seconds.
"I always loved running, but I was just so bad that when (high school) was over, I was like, there's no hope for me," Rufener said.
She attended Southern Oregon University for a term and was approached about running — she turned them down.
"I basically said 'no, you don't know how bad my times were,' and I just walked away," she said.
And yet, the desire to run never fully disappeared.
She transferred to Clackamas Community College, where she was convinced to try running competitively again.
"It was very slow progress," Rufener said. "But I knew I wanted to continue to run at a different school."
That school was Western Oregon.
"Almost two years ago, I talked to coach Johnson and asked him if I could join the team," Rufener said. "He told me, 'well, your times aren't very quick, but we'll give it a try.'"
Since that moment, Rufener has seen steady progress — and realized the sport she was ready to walk away from was actually what she wanted to do for as long as she could.
"Through all the training, I realized I really love this," Rufener said. "It's what I want to do after college. The more coach stuck with me and the people around me stuck with me, I loved it more."
Last season, Rufener was the women's team's top finisher at the Great Northwest Athletic Conference Championships.
She's got her eyes set on qualifying for nationals this year.

But she has newfound confidence that she has what it takes to make it happen.
"When I first got here, coach would give me a workout and I would be really negative about it and think, 'I can't do this,'" Rufener said. "In the last year or so, he's proven to me — and I've proven to myself — that I can do this."
The work has paid off. As a junior, Rufener took ninth at the GNAC Championships — finishing the 6-kilometer race in 22:41.3.
She's out to take the next step this fall.
"My personal goal is to qualify for nationals," she said.
Rufener will see some returning faces, including junior Grace Knapp and senior Suzanne Van De Grift.
With seven freshmen joining the team, competition will be stiff among the runners.
"We have quite a few new faces," Rufener said. "I think we'll be stronger."
The men's squad returns all scoring runners from the GNAC Championships in 2016, led by senior David Ribich, who took fifth at the GNAC Championships. Joining him are junior Dustin Nading, sophomore Justin Crosswhite and junior Tyler Jones, among others.
As a team, the men placed fourth in 2016. The Wolves have even bigger goals for this fall.
"We're chomping at the bit to get things underway," Ribich said. "… Pressure is a really interesting word. I don't think we feel pressure as much as we're excited about the opportunity."
The key will be trusting that their preparation will shine when it matters most.
"I think ultimately it comes down to confidence," Ribich said. "We have to trust in each other and the workouts and stay consistent. I'm not sure what we can achieve this year, but I'm not setting any limits on it."