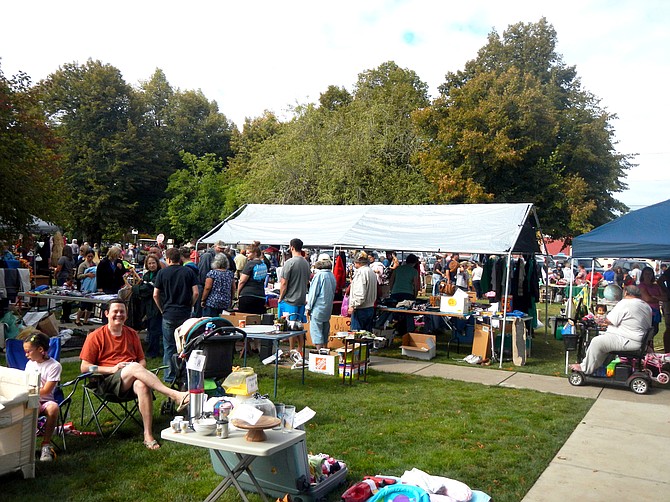 MONMOUTH — For all the treasure hunters and treasure hoarders in Monmouth, a grand opportunity is coming to Main Street Park on Saturday: the annual Monmouth Community Yard Sale.
One man's trash
What: Monmouth Community Yard Sale.
When: 10 a.m. to 4 p.m. on Saturday.
Where: Monmouth Main Street Park.
Of note: Those interested in selling can register for free at www.micc-or.org.
From 10 a.m. to 4 p.m., the park will be host to more than 30 sellers and many more buyers perusing clothes, books, music and other wares — and, for the first time, shoppers will be able to purchase food to eat while they browse.
"We have a couple of food vendors (coming to the sale)," said Mark Fancey, Monmouth's community development director. "I know we'll have tamales available."
The sale is a community event intended to bring people together, event organizer Terri Gregory said.
"My favorite part is seeing so many people get to know each other and have such fun by simply turning over things they no longer need to those who can use them," Gregory said.
"We always hope that WOU students can make it down and find some things they need at an affordable price," Fancey said. "Also, I am liquidating a large collection of rock and blues CDs, and will have about 600-700 CDs for sale."
The sale is sponsored by the Monmouth Business Association and has been spearheaded by Gregory for years.
This is her last year working on the sale — as she is relocating — and she won't be able to attend, but she is excited nonetheless.
"Seeing people unload stuff and create space physically and mentally is a passion of mine. Re-use is so important in our present-day world of disposability," Gregory said. "It's a fun event that brings the community together. The whole thing just brings me such joy, and I hope it will continue for a long, long time."