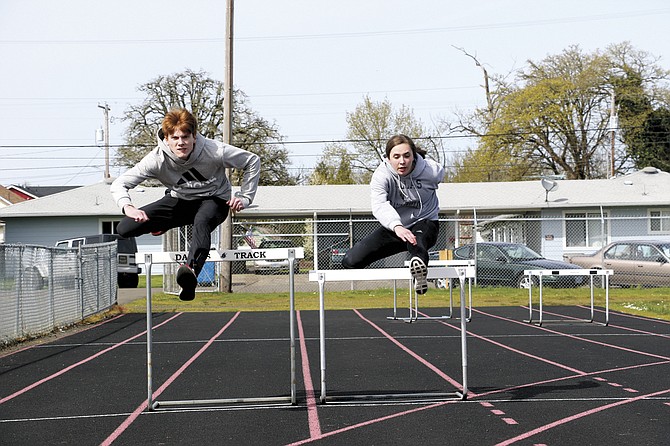 DALLAS — The project to update Dallas High School's football field and track — if field fundraising is successful — will be completed over two years instead of one.
Once the Dallas Booster Club, which is raising money for the field part of the project, and Dallas School District officials looked at the timing of the upgrades, they decided it would be too difficult to get them both done in one summer.
The district agreed to pay for the track replacement, but only if the field is paid for through private donations.
"Everyone thought it would be best from a timing perspective to have the artificial field done first before the district started the replacement of the track," said Kevin Montague, the district's facilities director. "If we wanted to do the track project, let's say next summer, we would want to go out to bid in February or March to get our contractor on line and geared up."
The problem is, the booster club won't know if it has the money in hand for the field until April.
If it doesn't, the campaign will have to continue into the next year.
Montague said contractors might not like that uncertainty.
The proposal now is to have the turf done in one year — next summer at the earliest — and the track the following summer.
Athletic Director Tim Larson said the district has a contingency plan if the field installation damages the track, making it unusable for one season.
"When the field gets put in, it (could) mess up the track. We won't be able to use the track for practice, won't be able to use it that season for track meets," he said. "We will have the ability to use LaCreole's track for practices, and then the two or three track meets that we would usually host will be picked up by the other schools in our conference."
Larson said he would need to get permission from the Oregon School Athletics Association to have the middle school and high school teams share facilities.
Montague said the district should be prepared to adjust entrances to the stadium when the track is replaced.
One side of the track will be raised for proper drainage, so those entrances that touch the track need to be changed.
"The stadium won't change, except the interface with the track," he said.
Thinking ahead, however, those changes would have to comply with any new design for a replacement stadium in the future, Montague said.

That prevents the district from digging up and new track surface when it upgrades the bleachers.
Greg Locke, the engineer on the field project, said completing the projects together would have saved money, but that shouldn't affect the track project cost.
The field drainage will be designed to have the track drainage tie into it once completed.
"It doesn't cost the district more money to postpone the project," Locke said. "The boosters end up paying that cost, which is what we planned on originally. It's no additional cost to do it (separately)."