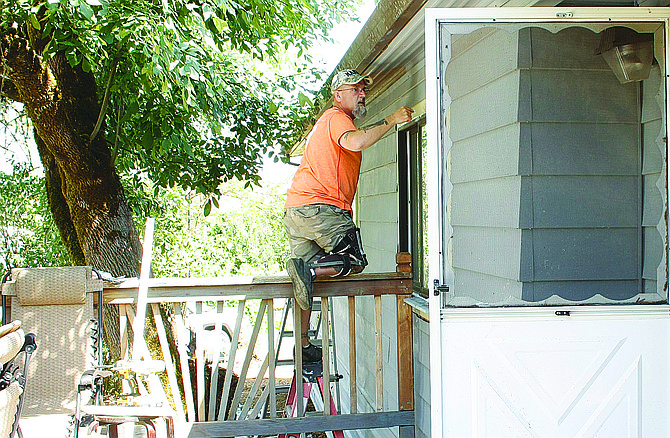 MONMOUTH — Brandon Doeden had recently purchased a fixer-upper home outside of Monmouth on Airlie Road when his life screeched to a halt.
Three months ago, he was in the middle of do-it-yourself renovations when he was in a motorcycle accident in Fossil.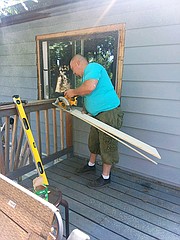 "It was pretty surreal," Doeden said of the accident that left several other people injured, as well.
The crash put him in the hospital and left him facing months of recovery. Finishing the renovations — or even getting things to the point where he could make do — wasn't possible.
"I've spent a lot of time here, looking at what I need to get done," said Doeden, who still walks with a significant limp.
He had help getting one of his bathrooms repaired so he could use it during his recovery, but the long list of other necessary repairs has been left unfinished.
Until Aug. 19, when a group of veterans descended on the house for a morning work party, arranged by the Polk County Veterans Service Office.
"Under my mom's suggestion — she's been dropping in a lot — we went to the veteran's office in Dallas to see if there was anything they could do," Doeden said.
He hasn't served in the military since 1993 after giving six and half years, but that didn't matter to the vets who lined up to help him.
"If we don't take care of each other, ain't nobody else going to," said Marv Olson, as he worked on one of the windows. "Nobody takes care of vets except vets."
Olson said he posted the work party on Facebook and was encouraged by the response. He said even those who couldn't make on Aug. 19 offered to help later.
"I'm hoping this will provide him some encouragement," said Marie McCandless, Polk's VSO. "I think we will have to come out one more time and help out."
The morning of Aug. 19, the crew installed a dishwasher, retouched the exterior paint, reframed windows and put in insulation underneath the home.
The latter item, along with inspecting the underside of his house, has been on Doeden's mind.
"That's been daunting," he said. "I wasn't sure how long it would be before I could crawl again."
Doeden was surprised, and grateful, to hear the group would return later to finish more work for him.
"I thought this was a one-time deal," Doeden said. "Wow."