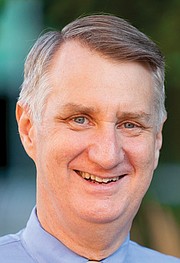 Colon cancer is one of the most common cancers. In fact, 9.4 million people were diagnosed with colon cancer in the United States in 2015. And did you know that most colon cancers happen in people without a family history or any known family traits?
About the author
About the author: Dr. Lawrence K. Gates Jr. is a currently a specialist in gastroenterology at Salem Gastroenterology Consultants in Salem. He graduated from Duke University School of Medicine, where he completed his Internal Medicine internship and residency. He completed a Gastroenterology fellowship at the Mayo Clinic and was an Associate Professor at the University of Kentucky. Dr. Gates is married and has two daughters.
Patient survival depends on the stage of the cancer when it's found. The five-year survival rates for colon cancer are approximately:
• Stage 1 – 90 percent
• Stage 2 – 70 percent
• Stage 3 – 40 percent
• Stage 4 – 5 percent
Unfortunately, early stage curable colon cancers come without signs or symptoms. By the time the patient has noticeable stomach pain, weight loss or rectal bleeding, the cancer is often at an advanced stage and incurable.

The American Cancer Society, the U.S. Preventive Services Task Force, and various gastroenterology and endoscopy societies have created guidelines for colon cancer screening. Colonoscopy is the best tool for colon cancer screening and prevention.
Studies show patient populations who follow the guidelines have a 50 to 75 percent lower rate of colon cancer death. The guidelines are:
• Non-African American people with no significant family history of colon cancer or polyps (a mass of tissue) should have their first colonoscopy at age 50.
• African Americans should start at age 45.
• People with 1) no family history of colon cancer and 2) have no polyps on their first colonoscopy, should have a repeat colonoscopy in 10 years.
• People with a strong family history of colon cancer should have their first colonoscopy at age 50, or 10 years younger than the age at diagnosis of the youngest affected family member, and every five years thereafter.
• Anyone with pre-cancerous colon polyps on any colonoscopy should have a colonoscopy every five years.
What is a strong family history of colon cancer? Colon cancer in one or more first-degree relatives (parent, sibling, or child) before age 60, or in two or more second-degree relatives (grandparent, aunt or uncle, cousin, or grandchildren) before age 60.
Getting prepared: As any patient will tell you, the worst part of colonoscopy is the preparation. It involves a clear liquid diet and drinking two doses of a salty solution. Then find an empty bathroom and a good book. The prep solution works to clean out your colon. The colon needs to be thoroughly flushed, to give the doctor the best possible view.


The day of the procedure: Arrive early, dress comfortably, leave valuables at home and get ready for a nice nap. With modern drugs that put you to sleep, most patients have no memory of the procedure. You'll need a family member, neighbor or friend to drive you home. By the next day, you will be back to normal, and able to resume all of your usual activities.

Colonoscopy is a safe procedure. The rate of major complications is about one in every 3,000 procedures.
Please join us this March in recognizing Colon Cancer Awareness Month. Colon cancer is preventable, beatable and treatable.
Salem Gastroenterology Consultants is a practice of nine board-certified gastroenterologists, four physician's assistants, and a dietician, serving the mid-Willamette Valley.
For the past two years, we have provided endoscopy services at West Valley Hospital and clinical consultations at Oregon Family Health to better serve our patients in Dallas and the west side of the valley.
While we provide the full range of services in the diagnosis and non-surgical treatment of diseases of the adult gastrointestinal tract, the biggest part of our practice is screening for colorectal cancer.