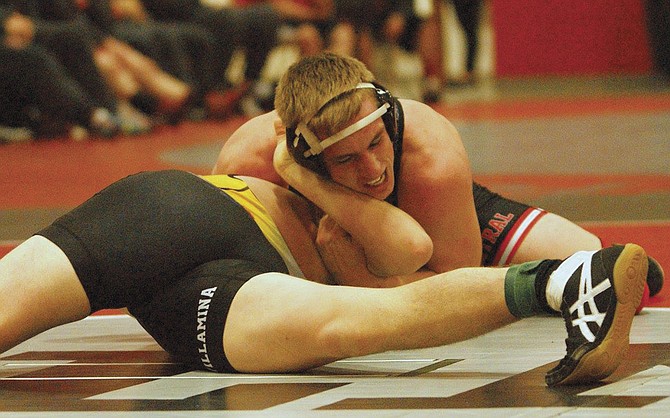 INDEPENDENCE — Central senior wrestler Sam Crow isn't sure how many times he's replayed the match in his head — but it's been a lot.
As a junior, Crow appeared headed for a spot in the finals in the 195-pound class at the Mid-Willamette Conference district wrestling championships when he was upset in the semifinals.
Crow would finish third, but the loss stung.
"It said third on my sleeve, but I knew it probably should have said first," Crow said. "I think about that match all the time."
It was a reminder that if you're not at your best at all times, anything can happen out there on the mat.
The senior is hoping for a happier ending this season — though he knows a path to a district title may come down to beating Dallas senior wrestler Tanner Earhart.
"The big focus right now is on Tanner (Earhart)," Crow said. "I've lost to him twice already in two very close matches that were winnable. That's where the focus is right now."
Crow, who finished second at the Robert Paul Invitational on Saturday, is fine tuning ahead of the district championships Feb. 10-11.
As Crow prepares for his final run at districts — and hopefully state — he's been recharged and ready to go — though the reason may surprise.
Crow missed nine matches while snowboarding at Mt. Hood during much of Central's winter break.
At first glance, it may seem like a strange choice, but for Crow, who also played on the Panthers' football team last fall, it was a much-needed chance to relax.
"Between football and wrestling, I didn't have a break at all," Crow said. "I went straight from the semifinals at Hillsboro Stadium, had the weekend to take a break, then was out the next Monday for wrestling."
He's come back strong since then, coach Van Holstad said. And he's out to show himself — and his teammates — that dedication and determination can lead to success.
"I think that if some of the younger guys can see a good, strong leader, they will be like that one day," Crow said.
row knows he can't get ahead of himself. But he's grateful and excited for a chance to finish what he started at districts.
This time, he's ready to do everything he can to make sure he doesn't have the same feeling as last season.
"I know that anything is possible," Crow said. "(What happened last season) keeps me working hard to get that first-place finish."