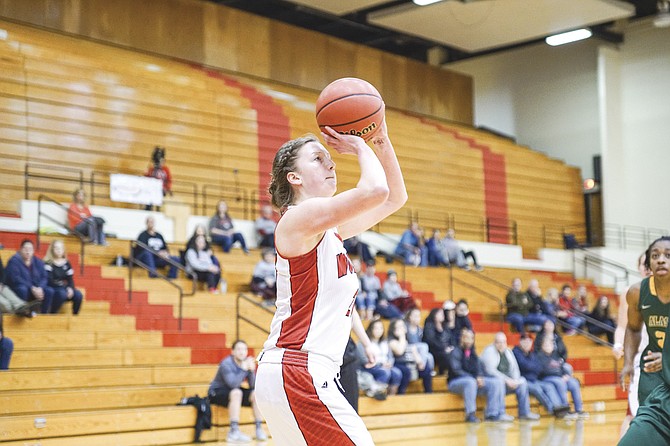 MONMOUTH — Before each women's basketball game, Western Oregon sophomore Ali Nelke takes a Sharpie to her wrist and writes a goal.
"Before each game in high school, my team would pick a goal or mindset for that game and we would all write the initials of it on our wrist," she said. "I have continued the tradition because it keeps me focused, especially on one of my most recent goals."
Lately, she has been writing M.T.D. — make them defend.
"Evolving from last year, I need to step into a role as an offensive threat on the team," Nelke said. "This is one of the big reasons I write M.T.D. is to remind myself that my team needs me to score and force the defenders to guard me in order to open up other teammates."
High school was also the first time Nelke truly thought about playing basketball in college.
Her freshman year at West Albany, her coach handed her a registration packet to play for Oregon Elite, a club team based in Lake Oswego.
"I was inspired by the fact that my high school coach believed in freshman me and truly thought I could play at the college level," Nelke said. "I learned just how many opportunities there are to play in college and committed my summers to this goal and Oregon Elite."
Once WOU entered the picture, there was little doubt where she would be playing her college ball.
"WOU was the right fit for me from the minute I was being recruited," Nelke said. "WOU had the business major I was interested in, a comfortable closeness to home and coach (Holli) Howard-Carpenter put a priority on defense, which I value."
She arrived as a freshman at Western Oregon ready for the 2015-16 season and started 21 games.
But the Wolves went 4-24 overall.
"Last season, I learned that I can never be content with the level of my game," she said. "I can always improve, especially when it comes to guard skills. I also learned the incredible value of communication on offense and defense amongst a team. Which means, I also experienced the great struggle when we are not communicating and working as one unit."
Western Oregon, and Nelke, remain a work in progress this season. The Wolves have won seven games and Nelke is averaging 5.1 points per game — up from 4.0 points per game a season ago, including a 10-point performance against Simon Fraser on Saturday.
While progress has been slow, it has been steady. And Nelke hopes the team, like herself, continues to step forward.
"One of our team goals was to win 12 games this year," Nelke said. "That would be one of the best seasons WOU has had in a long time. It will take a lot of hard work, but the season would definitely be a success if we can hit that marker."