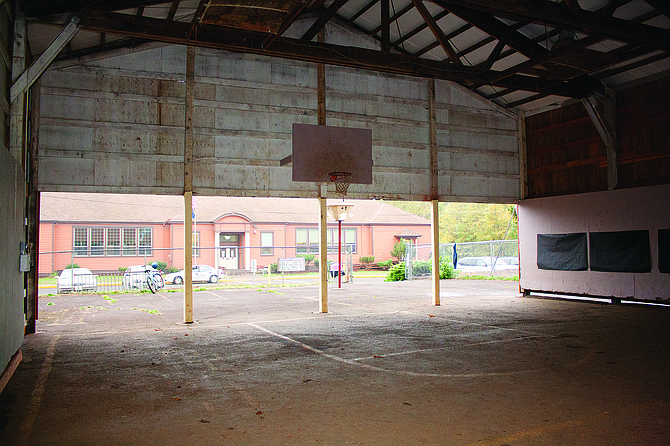 FALLS CITY — The Falls City School Board decided to stop asking district voters to pass a bond to build a gym at Falls City Elementary School.
Instead, it's asking for donations and volunteer support to build a scaled-back version, providing space for required physical education class time and an additional practice gym for sports.
Board member Bob Young proposed a barebones building with heat, a concrete base floor with a gym floor placed on top, and two basketball hoops, and capability to set up a volleyball net.
The building would be placed in the field across the street from the elementary school instead of the lot next to the school, which will cut down on the excavation needed to construct the gym, Young said.
He said with more PE minutes required next year and more classroom space needed, the building is a must-have.
Currently, elementary students take a bus down to the high school gym for PE classes.
"I don't think I would be talking this way if we were just talking about sports. The PE issue brings the whole thing together as a crisis," Young said. "Something needs to be done."
Young believes, if planned correctly, the building would cost less than $500,000. He said the district would have seek a loan, grant funding, and donations from businesses and individuals to get it done.
"It's going to be a big project, but I know we can do it because I know that I can get enough people to help do it," he said. "It comes down to the board having faith that we can do something like this and pull it off."
Board member Kristy Major asked if the plan meant that the district would no longer seek a voter-approved bond to build the gym. Voters have rejected that proposal twice by slim margins.
Board Chairwoman Jami Kidd said she didn't believe a third time would bring a different result.
"I think we've done it twice in a row. I think that people are a little concerned, not knowing what their health care costs are going to be, what life is going to hold. They don't want increased taxes," she said.
Elementary Principal Art Houghtaling said the proposal worried him because if the budget is tight, the cost would mean cutting staff.
Board member Larry Sickles estimated if the district had to borrow the full cost of the building, it would cost about $25,000 per year to pay for it.
He said that's a figure he's comfortable with. He pointed to the latest financial report that the district — with all its regular bills covered, including payroll, insurance costs and utilities — would have more than $350,000 left at the end of the year.
That didn't include unexpected repair costs, teaching supplies not requested yet, and FACES expenses. Sickles estimated that still left the district with $200,000 or more in the bank at the end of the year.
A new gym isn't the only improvement the district's looking at completing with an out-of-the-box plan.
The original, bond-funded gym project would have included a new kitchen and cafeteria.
Now that is no longer in the plan, but John Gilbert, the district's facilities manager, has an idea to address the issue.
It would begin this summer with demolishing the stage in the elementary school cafeteria, creating more room for tables and for the kitchen.
The additional room would provide enough space to add coolers, prep tables and a long-awaited dishwasher.
He said the remodel would be expensive, but could be completed and saved for in stages. Amy Houghtaling, FACES coordinator, said grants are available for school kitchen expansions, too.
"We would almost double our kitchen," Gilbert said. "We have a kitchen that you actually cook in."