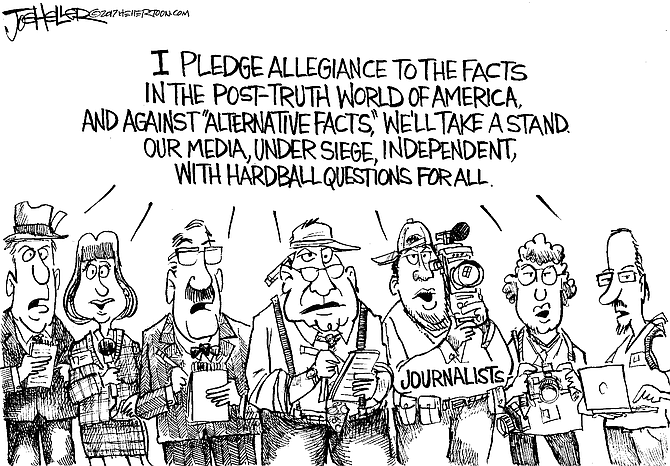 Hiring freeze not the answer
Since the 1960s, the U.S. population increased by 67 percent, the private sector workforce increased by 136 percent while the size of the federal workforce rose only about 10 percent. The two million career civil service employees conduct the essential work of the federal government, according to the National Active and Retired Federal Employees.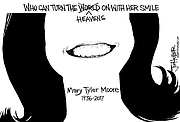 Past hiring freezes have been ineffective in reducing the federal workforce and may have actually increased overall costs to taxpayers.
I worked for the EPA during the Reagan years when he appointed Anne Gorsuch Burford as administrator with the goal to dismantle the agency (sound familiar?).
A hiring freeze and reduction-in-force were implemented. The result was a large increase in the hiring of contract employees to do the agency's work, along with a deterioration of human health and environmental quality.
Gorsuch was cited for contempt of Congress in 1983 and forced to resign during a scandal over mismanagement.

Contract employees have an allegiance only to their corporation while civil servants are dedicated to the federal community and its overall mission to serve the public.
The federal hiring freeze for all but the military is a poor decision by the new president and will have negative consequences for our nation.
Michael Cairns
Independence
Wildlife for all, not just trophy hunters
I recently read an article that promoted hound hunting and the killing of bobcats. It included a graphic photo of the kill lifelessly stretched out in front of its assailant.
As illustrated by the passage of Measure 18 in 1994, Oregonians view the hound hunting of our wild creatures to be unacceptably cruel and unsporting.
The hunter who wrote the story didn't chase down that terrified bobcat to feed his family, but rather for a trophy and bragging rights. We know from the public outrage over the killing of Cecil the lion that the vast majority of people find trophy hunting to be unethical and wasteful, and certainly not something to be celebrated.
There are so many ways to enjoy wildlife that don't involve killing. Oregon's wildlife belongs to all of us — not just the trophy hunters — and I hope in the future we can see stories that will reflect an appreciation for wildlife that doesn't involve chasing animals down with dogs and shooting them out of trees.
Cindy Birko
Dallas
Central teachers care about kids
In recent edition of this paper, some inaccurate statements and criticisms were made about the Central Education Association.
The CEA would like our community to know that we are proud to serve our teachers and our students. We are proud to assist our local families with needs ranging from clothing to glasses to food.
We are proud to support our classified staff. CEA members, at every level in our schools, live in this community, have children who attend our schools, and, along with our colleagues in the classified and administrative staff, are invested in our schools' success.
From time to time, we offer our voices to help find solutions to problems within our schools.
While exploring solutions, we are proud to collaborate with and support our current district administration.
We look forward to doing the same for a future administration.
Teachers are responsible for many tasks within a day. We frequently become part of the fabric of our student's lives.
This is a responsibility that humbles us and makes us proud. It is with this pride that we serve our local association and our larger community.
Laura Waight
President of the Central Education Association
Monmouth
Roundabout would create nightmare
Roundabout?
After reading the Clow Corner article in the Jan. 18 Itemizer, I felt the need to add my 2 cents worth.
A roundabout on a major highway (99W) is a bad idea. There is a lot of truck and commuter traffic on this highway.
Just think about the traffic nightmares when there is a college game. I have negotiated these highway messes in Salem and other cities, and they are a bad idea.
It is mentioned that a traffic signal would be less expensive. Cheaper and more sensible is what should take place.
Hoffman Road signal works just fine so please use common sense and install the same pressure plate system at Clow Corner. Yes with a roundabout the accidents will be less critical, but I believe there will be many more.
Wayne Theiss
Dallas
LaCreole school helps Legion
The American Legion Post 20 would like to take this opportunity to thank Mr Jamie Richardson, principal, for the use of the library at LaCreole Middle School.
We were able to hold our annual High School Oratorical Speech contest on the United States Constitution. The winner moved on to the next level on Saturday at Post 136, Salem.
Also, the post would like to thank those that helped with the contest, as judges and time keepers.
Jesse Cagle
Dallas
Trump makes bad choices first week
After a very short time in office, Donald Trump continues to destroy this country under the pretense of making it great again.
And I have to say, I always thought this country was great.
A wall is to be built along the Mexican border, which has now alienated the United States from Mexico. And the idea that Mexico will pay for it is ridiculous.
If a tax is imposed on items imported from Mexico, who will pay the tax? The citizens of the United States. I doubt businesses will eat this tax.
All of us, including those who voted for Donald Trump, will be paying for it. Thank you Mr. Trump. Those of us on a fixed income appreciate another increase to the cost of living.
When do we start the wall along the Canadian border? After all, they are foreigners as well.
He has signed an order to restart the pipeline through South Dakota, with no regard for the Native Americans who oppose it.
As we've done for a couple of hundred years, we again rape and plunder the land that belongs to the Standing Rock Reservation.
What happened to the idea of respecting the rights of these people and land held sacred to them? It was the "white" people who put these people on a reservation, and now we don't let them decide how to use the land or what will or won't be done to it.
When will we hear about the alternative to affordable health care?
Over 20 million people could lose health coverage but to date no alternative has been mentioned.
And is an investigation into the three million to five million "illegal" votes for Secretary Clinton really needed when no proof has been presented?
Even top-ranking Republicans are saying it's time to move on.
Cliff Brown
Dallas
Obama will remain active in America
I received a personal letter from President Obama yesterday, wrote a week before he left office, that says a lot about his character and the compassion he showed for people.
He spoke about what he believes Americans stand for and is heartfelt.
It had to do with a family I know that is here illegally, and they don't have much, but this woman knew I was just making some soup for Thanksgiving as I am disabled and get very little for food stamps.
She made up a bunch of tamales and brought them to me so I would have a good meal for Thanksgiving.
She has arthritis and traveled a half-mile in the rain to bring them.
I said that there are people like her who have been waiting to become American citizens for quite a while, and they weren't looking for anything but to just become American citizens and share in our values and traditions and see their kids get a good education. Her family was celebrating Thanksgiving by making tamales, and she wanted to make sure I got some.

We don't always understand each other, but I help her when I can and she does the same with me.
Neither of us have much, but we try to help each other.
The president said he was moved by what he read about the woman and her tamales. I told him I would continue trying to help these people with the new administration, and wouldn't be giving up, because all's I have is time and determination, and his response was pretty amazing.
It's obvious he does not intend to just fade away, but will remain actively helping people and the issues he believes in.
Rick Bagby
Dallas
Gov's budget outpaces needs
I have read that the governor's budget proposal in nearing $75 billion, and in 1980s, it was near $10 billion. That would mean that the budget has grown approximately eight times, or doubled three times: 2 x 2 x 2 = 8.
That would mean the one-bath house I sold in Aloha in 1980 for $43,000 would be worth $344,000. My 2,100-square-foot house in Dallas isn't worth that much. Have any of the following gone up eight times: your wages, your house value, the population of the state or county, school attendance?
Then why the cost of state government?
Gary Weis
Dallas
Dallas wrestlers help when needed
A heartfelt shout-out to the Dallas Wrestling team; a wonderful group of young men who came out in droves last week to assist an elderly community member.
In mid-January an alert was posted on the Dallas Link-up website: a free, as well as easily accessible, online space for community members and organizations to address local needs.
This alert asked for volunteers to aid an elderly community member with moving into her new long-term residence.
Due to her age, and other various barriers, this individual required help with moving/transporting her heavy furniture items.
She not only needed "man-power," but also moving trucks equipped with related moving supplies.
The Dallas Wrestling team without hesitation responded enthusiastically to this alert.
On the day of the move, this large group of young men arrived promptly at the pre-arranged meeting site.
From the very beginning the team was nothing short of respectful, kind and attentive.
They took great care with the woman's personal belongings and even worked with her to address concerns when transporting more delicate items.
What was so unique about this group was their willingness to share their personalities; which was a highlight for the community member.
Not only were the boys respectful, but it was abundantly clear that they were also just being themselves.
They were eager to help someone in need, while at the same time not afraid to display their sense of humor, as well as charm.
A huge thank you is owed to this team.
Thank you for your generosity, spirit and sheer numbers.
Lastly, they need to be commended on their willingness to participate, since this all took place on a day off from school; which speaks volumes to their character and sense of community.
Good luck Dallas Wresting team with the remainder of your season.
Ashley Hamilton
Salem