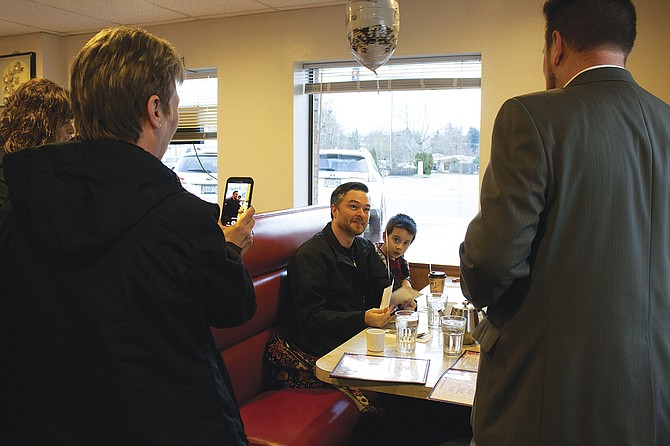 DALLAS — If you are a regular attendee to the Dallas Area Chamber of Commerce's annual Community Awards, you will notice a few changes this year.

The biggest change is that there are fewer awards.
JD Shinn, the chamber's chief executive officer, said the reason for that isn't that there are fewer people in town worthy of awards. The chamber simply wanted the awards it gives out to mean more, he said.
"We want to make to make sure they are perceived as a prestigious thing," Shinn said, noting in other communities with similar traditions, perhaps as few as three awards are presented each year. "We were giving out 10."
Shinn said he noticed some overlap in the qualifications for awards and narrowed them down so that each is unique.
This year, which marks the celebration's 60th year, the award winners are:
First Citizen — Jinett Yeager, who started Jinett's Closet, a clothing closet at Dallas New Life Church of the Nazarene.
Business of the Year — Heartstrings Florist & Artisans, whose owner, Linda Taylor, organized a downtown turkey giveaway that helped connect local businesses and donated turkeys to the Dallas Food Bank.
Young Pros of the Year — Devin Colby Jones and MacLarin Jones, the owners of Harvest Crossfit, which opened in 2014.
Organization of the Year — CASA of Polk County, an organization of volunteers who represent the interests of foster children in the court system.
Excellence in Arts — Abe Huff was selected for the honor by the Dallas Arts Association, which will present to award to him during the ceremony.

Winners will be recognized at the Community Awards Banquet on Feb. 24 at 6 p.m. at the Nesmith Readiness Center in Dallas.
Washington Street Steakhouse will cater a prime rib dinner, and Emmaly and Wyatt Basaraba will provide live jazz music for the 60th anniversary celebration.
Tickets are on sale at the chamber office, 168 SW Court St., for $40 each, or $45 at the door, if there are any left.
Over the last few weeks, Shinn said he and chamber employees had a lot of fun notifying the winners, taking balloons to each recipient and making videos of their reactions to the unexpected news.
"The surprises are the best," Shinn said.
For more information or to see videos of Shinn notifying the award winners, go to www.facebook.com/dallasoregonchamber/.