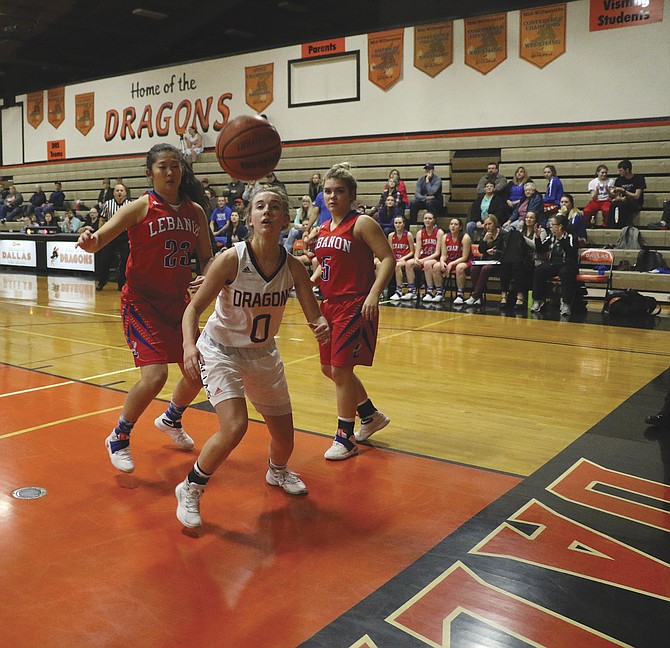 DALLAS — If there's one characteristic that's defined Dallas' girls basketball team it's this — resiliency.
"You can talk about the x's and o's, but our kids are just resilient," coach David Brautigam said. "They may get down, but you know they'll battle back. We're seven deep. We have no post, but the kids are scrappy."
Dallas defeated Lebanon 55-46 on Feb. 1 before falling to Crescent Valley 66-52 on Friday.
That resiliency was on full display against Lebanon. The Dragons fell behind midway through the first quarter. By the start of the second, Dallas was rolling on offense and defense and on its way to a victory.
"What I love about this team is if we're not doing something, we're able to figure it out," Jordan Dippel said.
Unselfish play means that no one player puts personal stats ahead of teamwide success — leading to easier buckets for everyone.
"No one is afraid to step up and fill the job they need to," Olivia Nelson said.
The Dragons have had a number of players step up in big ways this season, Brautigam said.
"Jordan has been awesome," Brautigam said. "Stefani (Tallon) is one of the best defenders in our league. Against Lebanon, Stefani had two quick fouls. Olivia (Nelson) had two fouls, but we had kids step up. We have to keep that going."
The Dragons may not use a deep bench, but the fact that anyone in the rotation could break out on any given night makes them dangerous.
"It's nice to know if someone can't do something, you have six other people who can come in and do the exact same thing and do it just as well," Dippel said.
The Dragons face a critical stretch of games.
Dallas entered the week in third place in the MWC. Corvallis and Silverton entered tied for first. The top two teams earn an automatic berth in the state playoffs. The third seed hosts a play-in game.
"I'm excited for the next game," Brautigam said. "We can't look too far forward. That's been a big thing for us. We have to look at what is in front of us."
The Dragons know they can't afford to get off to slow starts too often and finding that intensity from the opening tip may be the difference between a close victory and defeat.
"We have to come out with intensity and need to bring it every game," Nelson said. "We have to bring it like we're down by 20 every game."