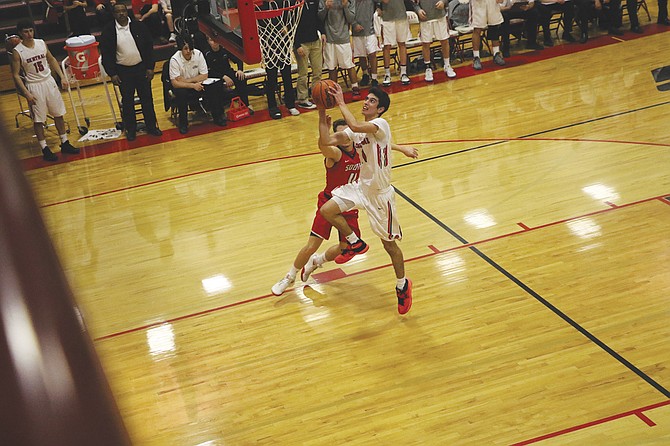 INDEPENDENCE — Headed into Friday's game against South Albany, Central's boys basketball team was looking for a kick start.
The Panthers had lost three of its past four games — including a 58-46 loss to South Albany on Feb. 3 and a blown 11-point lead against Crescent Valley on Feb. 7.
For senior Alec Barba, the path to victory was simple.
"We need to come out and punch them in the face," Barba said. "When we come out with energy, I like our chances."
The Panthers threw the first punch and never looked back, defeating South Albany 76-46 on Friday. Barba scored a game-high 17 points as Central outscored the Rebels by 26 in the second half.
Barba is doing everything he can to help the Panthers enter the postseason in peak form — he hopes his sense of urgency infects his teammates.
"You try and show the younger guys that urgency," Barba said. "Knowing it's my last year, each practice is one less that I have. It makes me want to work harder."
—
Barba doesn't like to win — he needs to — whether playing basketball for the Panthers or one-on-one with his younger brother.
"On or off the court, I have to win," Barba said.
That need has driven him to become an all-around threat who can affect a game in a number of ways.
Since coming up to varsity as a sophomore, Barba quickly emerged as a sharp shooter.
"Alec is our first really true shooter to come through since Kaj Bansen," coach Tim Kreta said.
Since then, he's transformed from a gifted scorer to someone who can do almost anything on the court.
"As teams have eyed in on him and taking him away from scoring, he's still a big contributor," Kreta said. "He can grab rebounds, set solid screens, get some assists. He's a true competitor."
Barba also wanted to have a big impact on defense and not merely adequate.
"It's been my goal to be a top defender on the team," Barba said.
That's not an easy task. At 6-foot-3, Barba is taller than most of the guards he's assigned to defend, but that comes with a drawback.
"Alec is a taller kid in a guard's body," Kreta said. "Other players might be a little quicker than he is, so he has to find those niches. He has to play what we call old-man defense. How can old men keep younger players in front of them? You learn the nuances of playing defense."
That means watching film and understanding where his strengths and weaknesses as a defender lay so opponents can't exploit them, Kreta said.
As Barba rounds into peak form, he hopes his teammates are ready for a sprint to the finish.
—
The Panthers, which played Lebanon Tuesday after press time, entered the week with a 6-4 record in Mid-Willamette Conference play, trailing Crescent Valley (8-2 MWC), South Albany and Corvallis (7-3 MWC) in the league standings with three league games left.
There's a lot still to be decided. The top two seeds in the league automatically qualify for the first round of the state playoffs. The third and fourth seeds will host a play-in game. The fifth- and sixth-place teams in the league go on the road for a play-in game.
Central closes the regular season at Dallas Friday at 7 p.m. and hosts Corvallis Tuesday at 7 p.m. and Woodburn on Feb. 24 at 7 p.m.
"Getting a bye is doable, but it's going to take a hell of a lot of work," Kreta said.
More important is making sure the Panthers enter the postseason with momentum. If Friday's game was any indication, that message was heard loud and clear.
"I want to go out with a bang," Barba said. "I want us to make a big push in the playoffs. I know what this team is capable of."