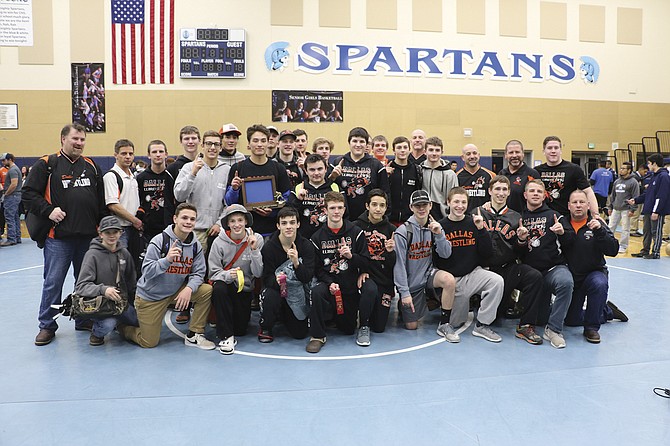 CORVALLIS — For Dallas' wrestling team, the district title was back where it belonged. The Dragons won the team title at the Mid-Willamette Conference District Wrestling Championships on Friday and Saturday for the seventh time in eight years.
"It means a lot," Treve Earhart said. "It's nice to get it back. Time to start another streak."
Twelve Dragon wrestlers punched a ticket to state as Dallas prepares for a run at a 5A state title.
—
Moments after sophomore Jacob Jones pinned Silverton's Tristan Lavier to win a district title at 126 pounds, the thrill of the moment took over.
"It's just crazy and exciting," Jacob said.
As his hand was raised in the air, Jacob's father, and one of Dallas' assistant coaches, John Jones let out a scream.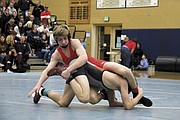 "That's a dedicated boy," John Jones said. "He works hard. … I'm just proud of him."
A district title is always special. Sharing the experience with his father made his win much more meaningful, Jacob said.
"It's cool," he said. "He's been my coach and been with me athletically pretty much my whole life."
The moment wasn't lost on John, either.
"It's fun to be a dad and to get to be on this side of things as a coach," John said.
Jones was one of four district champions from Dallas, joining Tanner Earhart (160), Cody Janssen (170) and Treve Earhart (195).
"It's cool," Tanner said. "It's weird because this is my last one, but it felt good."
Treve Earhart defeated Central's Sam Crow for the third time this season in the district finals, earning a 10-6 decision.
"I knew it was going to be a tough match," Treve said. "I knew he wanted it really badly because it's his senior year. ... (Winning) means a lot. It's nice to go up a weight class and be successful, it feels really good."
Winning alongside his brother was something he yearned for.
"It's awesome," Treve said. "I want to be like him. It's fun to win during his senior year."
Janssen, who earned a 9-3 decision over Woodburn's Karson Christiansen in the finals, saw the culmination of the hard work and support from all those around him.
"It meant a ton to me," Janssen said. "I've had a lot of support from my family and my teammates. I felt like I had to do whatever it took."
Ryan Bibler (106) and Clay Coxen (182) finished second. Dawson Barcroft (113), Joseph Foster (126), Bryce Miller (132), Joseph English (138) and Nicholas Nelson (152) took third, and Devon Floyd (160) placed fourth.
The top four wrestlers in each weight class advanced to state.
While the Dragons enjoyed their district championship, they know their work is far from finished.
The state wrestling championships will be on Feb. 24-25 at Veterans Memorial Coliseum in Portland.
For some, like Tanner, who took second at state last season, this is a final opportunity to bring home an individual title.
"I still have unfinished business," he said.
But the Dragons also know they have a chance to challenge for the team title.
"We'll have about the same number as the Hermistons and Redmonds," Dallas coach Tony Olliff said. "Crater will have more, but I think they will have a lot tougher first day than we will."
For those moving on to state, the focus remains on fine tuning.
"Whatever your kryptonite might have been, you have to work on it," Janssen said. "We have to find our weaknesses and eliminate them."
For Olliff, the weeks leading up to state means keeping wrestlers healthy, and mentally and physically prepared for a grueling two-day tournament.
"I think we have to vary the schedule and style of workout so it doesn't become mundane," Olliff said. "It's not about three rounds anymore. There's going to be a lot of overtime matches at state. You have to know going into an OT match that you have what it takes. We have to put them in that situation and have them be able to function in those lung burning situations."
Dallas entered the district championships with high expectations. The Dragons didn't disappoint.
They're hoping for a similarly strong showing at state.
"We all have to do what we can," Janssen said. "We have to do our part to get us close to a state title and put ourselves in the best situation we can."