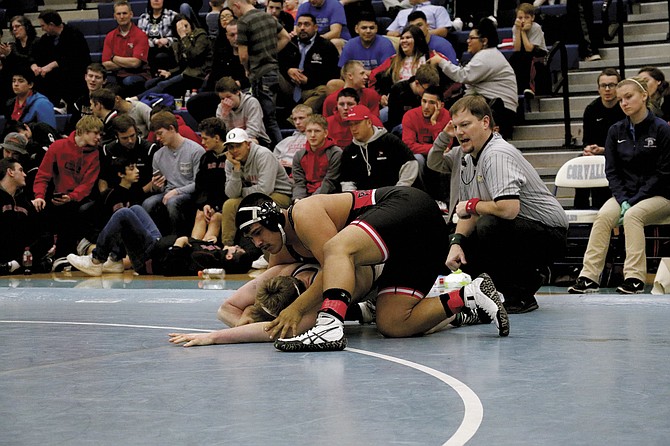 CORVALLIS — Central senior wrestler David Negrete (220 pounds) won his third district title on Saturday night at the Mid-Willamette Conference District Wrestling Championships.
"I'm glad I became a district champion again," Negrete said. "It makes me feel good and shows everyone I can do this."
This will be the fourth time Negrete is headed to the state wrestling championships. After placing fourth in 2016, he's ready to show how much he's grown.
"Last year, I was pretty nervous," Negrete said. "This year, I'm more prepared."
The Panthers saw seven wrestlers qualify for state at districts.
Sam Crow (195) and Caleb Sedlacek (285) placed second.
"Our three finalists have not only grown as wrestlers, they have also grown as leaders," coach Van Holstad said. "They have dealt with success and failure with dignity and humility."
Sedlacek felt that the moment got to him in the district finals, but is ready to learn from the experience.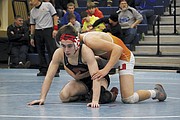 "I was super nervous," Sedlacek said. "I let the crowd get to me a little bit and got caught in the moment more than I should have, but making it to state means a lot. One of my goals was to make it to state and rock it at state."
Noah Worthington (106) and Chris Polanco (160) finished third and AJ Morales (170) and Erik Vasquez (182) took fourth.
Polanco's journey to state has been a long one.
Polanco, a senior, earned a 6-4 decision over Dallas' Devon Floyd to take third. A year ago, Polanco lost to teammate Gabriel Arreguin in the fourth-place match at districts.
Arreguin advanced to state. Polanco did not.
This season, with his last chance to go to state, nothing would stop him.
"Everything was at stake," Polanco said. "I lost my semifinals match. I got fired up. To face a Dallas wrestler, it's two rival teams. It was all on the line."
With his first trip to state secured, Polanco is excited to experience the competition first hand.
"It's not just about the wrestling," Polanco said. "It's everything. It's the atmosphere. It's a nice feeling (to know I'm going)."

But all of the Panthers' qualifiers aren't satisfied with simply making state.
"(Districts felt pretty good)," Worthington said. "… Now I want to get top three at state."
The Panthers finished fifth in the team standings.
"For the most part, we did just about how we expected," Holstad said. "Of course, we wanted a better team finish and more qualifying wrestlers, but we were competitive."
Now, the attention turns toward state when Holstad said they will maintain a regular schedule to maintain their peak.
The Panthers didn't quite send as many wrestlers to state as they had hoped, but Holstad said he was proud of the way each wrestler battled over the weekend.
"As always, we wanted more to qualify, but seven isn't a bad number to take to state out of a very tough district tournament," Holstad said. "Unfortunately we have to leave a few kids who have worked very hard to make big improvements home, but are proud of them none theless."