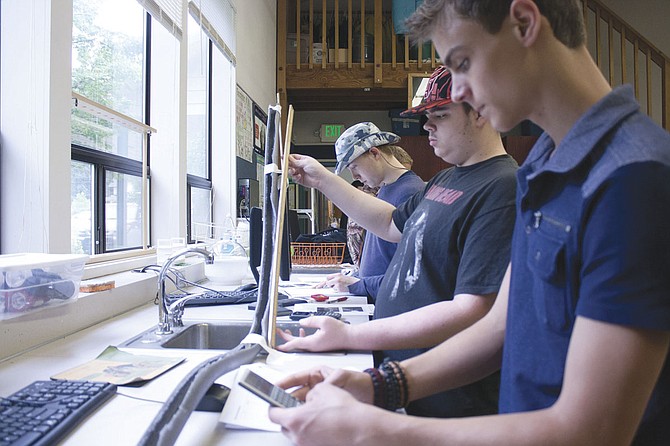 FALLS CITY — Amy Houghtaling received a pleasant surprise Tuesday morning.
The director of Falls City School District's after-school program Family Academic Community and Enrichment for Success, along with Lynn Bailey, the program's sustainability coordinator, had planned on giving a grant presentation to the Polk County Board of Commissioners.
They did not know they would leave with the money is on its way.
The board approved the $28,100 grant request for FACES' Student Workforce Readiness Project, which will employ five students over two trimesters, working approximately 14 hours per week, earning class credit, and developing job skills they can use later. The funding is awarded through the county's economic development program.
FACES began nine years ago, and has employed teens to work with younger students in program classes. Fifty part-time positions have been offered to students, 93 percent of which graduated and many moved on to post-high school education or work.
The workforce readiness project is targeting a different demographic: at-risk teens.
Students will work in the district on landscaping in the spring and fall trimesters, working on projects at the schools and city parks and cemeteries.

"We believe it is important for the students hired by this project to stay in Falls City because we are hoping to hire some of our most alternative and at-risk students," the grant application said. "These kids tend to be from homes where neither parent works, where people in authority are not trusted, and where a vision of a 'way out' is limited."
Bailey said this program will help students develop confidence by working with people they know and trust now.
"That will help them branch out," she said.
Students who want to participate in the program must apply like they would any other job. They will be required to submit a resume and go through an interview process. According to the grant application, participants must be passing all classes and be "demonstrating positive behavior in the classroom and community in order to maintain employment."
Commissioner Jennifer Wheeler said she's seen the difference FACES programs have made in students and made a motion to award the grant.
The motion was approved unanimously.
"I appreciate what you do every day because these kids are our future," Commissioner Mike Ainsworth said.
The program will begin in April at the start of Falls City's spring trimester.
In other business, FACES:
• Is looking for sponsors for its this spring's Rollercoaster Physics Class.
Houghtaling said the class is looking for $10,000 in sponsorships to improve the class and pay for its end-year trip to a yet-to-be announced amusement park.
"If not, we have enough money to go to Idaho and do the same trip we did last year," Houghtaling said. "We are just trying to broaden horizons."
For more information about the sponsorship program, call 503-787-3521, ext. 303.