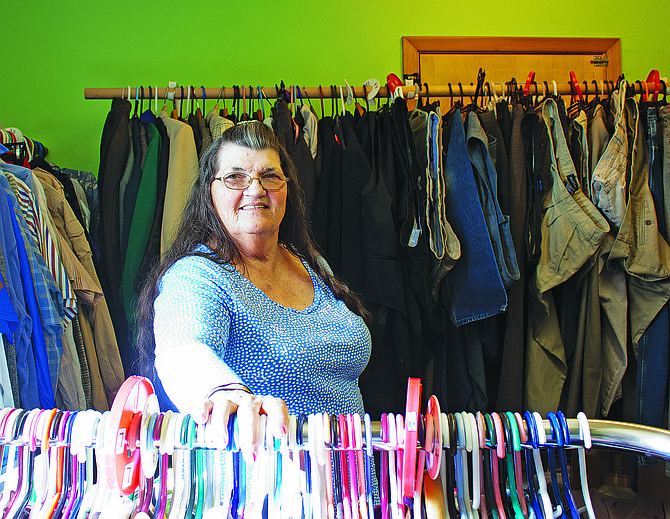 DALLAS — Jinett's Clothing Closet is often bursting at the seams with clothes to give away to those in need.
And the winners are
Business of the Year — Heartstrings Florist & Artisans, located at 137 SW Court St.
Owner Linda Taylor opened the shop in 2011, rekindling a love of flower arranging she discovered in the 1970s.
"Our selection committee agreed that owner, Linda Taylor exemplifies what it means to be a community leader by organizing the downtown turkey giveaway, which not only unified local businesses but also donated 28 turkeys to the Dallas food bank," said the chamber's Facebook announcement of Business of the Year. "Linda also maintains a positive attitude and consistently delivers exceptional customer service."
Young Pros of the Year — Devin Colby Jones and MacLarin Jones, the owners of Harvest Crossfit, located at 172 SW Court St. Devin and MacLarin opened the gym in 2014, teaching classes tailored to each individual with the goal of helping people achieve something they didn't think was possible.
Their effort hasn't gone unnoticed.
"You guys have poured into this community since you've come in," said Shinn in his surprise announcement at Harvest Crossfit. "You've made a healthier Dallas. You guys have really gotten involved."
Organization of the Year — CASA of Polk County, an organization of volunteers who represent the interests of foster children in the court system.
Polk County's program has gone through a leadership change that has resulted in growth in the number of volunteers working with the program.
"CASA is a program of volunteers that helps create stable relationships within the child welfare system," said the chamber's announcement of CASA's award. "They advocate for children, provide emotional support, and show love to the abused and neglected children in our community."
Excellence in Arts — Abe Huff, who was chosen by award sponsor, Dallas Arts Association.
The DAA selected Huff because he has been a musician since childhood — taking after his parents Sally Clark and Joe Huff — and has helped foster the musical community in Dallas.
Huff has helped with sound at Art in the Park, Guthrie Park Community Center jams and the Polk County Folklife Festival.
He was also one of the first musicians to play at Dallas' Pressed Coffee and Wine Bar's weekly jam sessions.
If the volunteer closet operator, Jinett Yeager, is around, they will receive more than just clothing — her genuine smile and warm hugs come free, too.
Dallas Community Awards Banquet
When: Friday at 6 p.m.
Where: Nesmith Readiness Center in Dallas.
Tickets: On sale at the chamber office, 168 SW Court St., for $40 each or $45 at the door, if there are any left.
Of note: Washington Street Steakhouse will be catering a prime rib dinner and Emmaly and Wyatt Basaraba will provide live jazz music for the 60th anniversary celebration.
Yeager had been searching for a way to give back the support and generosity people nationwide gave to her after she lost her daughter in a house fire.
In 2006, she found her opportunity when she took over the Dallas Nazarene Church's clothing closet, then called the "CASA Closet," because it helped meet the needs of foster children in the CASA (Court-Appointed Special Advocates) program.
Yeager transformed it into a resource for the whole community that now takes in more than it can give away. She launched giveaways for back-to-school, Christmas, and for those in need of warm clothing for winter.
"I've always wanted to make sure the community got everything that they need, and I still do, I still make sure that they do," Yeager said. "If we get donations, so much that we can't fit in our rooms, we start pulling it and start donating it to other organizations."
The Dallas Area Chamber of Commerce is recognizing Yeager's contribution to the Dallas community — and beyond — with its 2017 First Citizen Award at Friday's Dallas Community Awards.
"I was so shocked," Yeager said of receiving the award. "I could not believe it."
Yeager said she got a call from a friend who told her Bonnie Dreier with the Dallas Area Chamber of Commerce was looking for her.
"So, I called Bonnie up and she said, 'Hey, I have some people who want to come see you,'" Yeager recalled. "I figured they were coming to get clothing."
She told Dreier she would be at the clothing closet until 4 p.m. for those people to come in.
Yeager said not long after she opened at noon, Dreier showed up.
"I waved at her, you know, and Bonnie's got this big grin on her face," she said. "Here they come through the door and they said, 'You won!'"
"They" included JD Shinn, the chief executive officer of the chamber, who said of all the surprise announcements, hers was his favorite.
"Her reaction was priceless," Shinn said.
Yeager said she was speechless.
"It was just so awesome and it is such an honor to get an honor like that," she said. "What I loved about it most was they recognized our church."
Yeager said she's seen other clothing closets open in recent years and is glad to see others joining her cause.
"I still encourage people in churches," she said. "It's a big need."
That doesn't mean Yeager is going to be taking a break anytime soon. She considers the closet her mission, not just for those who in need, but also the women who are assigned to work there through community service.
Yeager helps mentor them — and rejoices in their successes.
"All these girls who come in, they become our family," she said.
Yeager's own family has grown as she now cares for two of her grandsons. She said with everything on her plate, she does get tired — but not for long.
"Sometimes I will sit in my car and rest and relax where it's all nice and quiet, and then I'm ready to go again," she said. "That's good enough for me. I don't know why God gave me this ministry, but I'm glad he did."