FALLS CITY — The city of Falls City is establishing an agreement for the city of Independence to conduct Falls City's municipal court.
That would be the first step in boosting enforcement of the city's codes, either through a nuisance code officer or Polk County Sheriff's Office.
Falls City Mayor Terry Ungricht said he has been working with the city of Independence to establish a contract.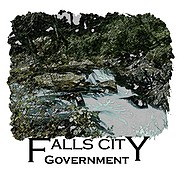 He said a court session would cost $270 for the judge; $100 an hour for an attorney, as needed; $122 for a court interpreter; and $12 for the court clerk (per case). Court days would be held in Independence and could be scheduled as needed.
"You would be looking at maybe, tops, $500 to try a few cases when we needed to," Ungricht said.
Both cities would have to sign off on an intergovernmental agreement, but the Falls City City Council gave Ungricht a green light to hammer out details on Feb. 9.
"I think it's something that we definitely need," said Councilor Tony Meier.
The Independence City Council OK'd the proposal on Feb. 14.
Ungricht said establishing a court to hear cases on nuisance or code citations allow the city to pursue a code officer and establish an agreement with the sheriff's office to enforce other code violations.
"This would give us an opportunity to enter into an IGA with the (Polk County) Sheriff's Office and then they could cite people, like for drinking in the park, stuff like that," he said. "That would go to this court."
Without a city court to cite violators to, the sheriff's office is only authorized to enforce state law and county ordinances, Ungricht said.
Ungricht said he's begun conversations with the city of Albany to help Falls City find a code officer, preferably a contracted officer. The city of Independence offered to help train the officer, if that is needed.
Ungricht said the hope is to train an officer to establish and argue cases before the judge, minimizing the need to use an attorney.
The council previously debated whether the council or a panel of councilors should hear cases in lieu of a court.
Ungricht said this plan puts the city more in line with how other cities in the state conduct court.
Ungricht said this also sends a signal that city leadership is serious about enforcing its code.
"Within the code enforcement community Falls City hasn't always followed through, so there isn't a big desire, with our remoteness, to enter into an agreement when we haven't got a court," Ungricht said.