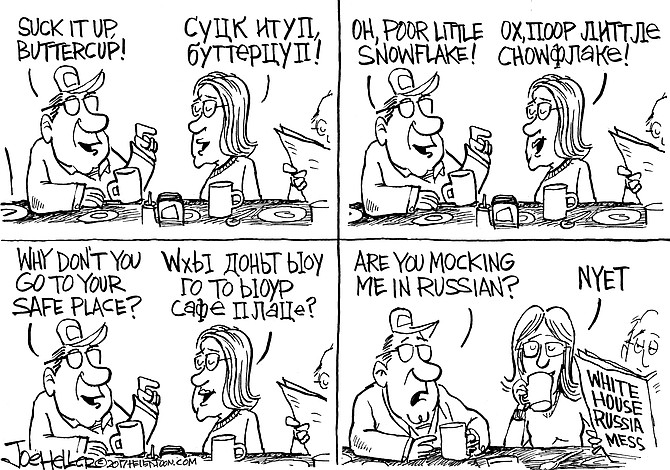 Plea to burglars: Please return items
On Feb. 13, between 6:30 a.m. and 4:30 p.m., someone kicked in the back door to my home on Southeast Jefferson and burglarized the place. One of the items taken was a small safe which contained a box of old family pictures as well as drawings and letters from my grandchildren, my high school diploma, birth certificate and passport. I would like to get these items back — no questions asked. These items are of no value to anyone other than me or my family. Again, no questions asked for the return of these items.

Clifford E Brown
Dallas
Litter patrol doing great service Dear litter patrol on Jan. 20 on Highway 99W. I know that it was your job to do and that you could think of other things you would rather do with your time; however, I truly am grateful for your service.
I cannot stand seeing garbage on the sides of the road when I drive from Dallas to Monmouth. It is something that really irritates me.
So, I wish to say thank you very much for what you did.
Rachelle Isham
Dallas
No empathy for wealthy Trumps
Poor wealthy Ivanka needs rich daddy to come to her aid. (President Donald) Trump has got to be the whiniest wealthy person, let alone so-called president, I have ever seen and heard.
Treated unfairly? How about the people attending his so-called university?
Treated unfairly? How about the workers who were screwed on their contracts with him?
Treated unfairly? How about his fellow Republicans with his libelous and unsubstantiated claims?
Treated unfairly? More than fair. How about the excessive attention he has received by all the media? They should have ignored him altogether.
Treated unfairly? How about all the other people — women, disabled, LGBT, of color and different cultures — affected by his actions and words?
I'm sure Ivanka will survive.
Louis Stuckey
Monmouth
Roundabout set to be waste of money
I agree with the letter in last week's paper about the roundabout at Clow Corner. I am assuming that ODOT is ignoring that their bright idea of putting a roundabout in Albany didn't work. A roundabout was on Springhill Road before the second golf club on the way into downtown Albany. It didn't last six months before they had to tear it up because it caused such a traffic jam. It turned back to a four-way stop. Whatta waste of money.
Especially considering the difference in cost between a roundabout and a stop light. Also, considering the problems a 16- or 18-wheeler truck would have maneuvering the roundabout and the traffic jam it would cause. I find ODOT greedy and abusive of our tax dollars. Like most government studies, ODOT's study is geared to the results they want, not what would best serve the constituents. They need to stop babysitting the population and let the population take responsibility for their actions.
Elizabeth Smithson
Monmouth
Man baffled by Trump presidency
The man is insane!
Ralph Lopez
Fourth-generation American
(At last check, not eligible for deportation)
Monmouth
Officials leave taxpayers confused
On reading this past week's Letters to the Editor, it appears there are other taxpayers out there who are equally appalled at the financial wizardry of politicians from city to federal levels.
One writer begs for cessation of government bond creation in order to bypass an established budget. A second writer points out the blatant lack of consideration over choosing a traffic solution four times the cost of an original decision.
I myself was amused at the "reasoning" put forth that a traffic light at Clow Corner and Highway 99 would not be effective when, in the same article, the success of an identical scenario at Hoffman Road and Highway 99 was applauded. What? Same highway? Same traffic? One mile south? One a proven success; the other predicted to be ineffective. Hm.
Am I confused or is this the same lame reasoning that has driven us taxpayers to cry uncle? I'm curious if politicians' home budgets are decided likewise; or is it that all common sense simply evaporates on entering hallowed chambers.
Joetta Chrissakis
Dallas
Man struggles to schedule test
Yesterday I learned why it takes so long to get a driving test at the DMV in Dallas. Yes it took me over two months, but I was able to finally get one at Albany this week. I have been over three months trying to get my license back from a medical restriction from when I was sick in the hospital last August.
Well guess what I found out: They only give driving tests on Friday and only one per day. What are they doing the rest of the week.
Well, the next time you have to take a driving test I hope that you have better luck than I did.
Oh. I finally got mine back and can drive my sports car again. And another thing, did you know that you can't call your local DMV, yes all calls are directed to a single number somewhere in Oregon and they won't transfer you to your local DMV, and try to get a hold of someone who is in charge to complain. Well good luck on that.
Walt Davies
Monmouth
Editor's note: The Dallas DMV gives 24 traditional driver's tests Monday through Thursday. It has one special test available on Fridays, such as Walt Davies needed, and is booked through March.
Fair facilities need your help, time
Please consider joining the Polk County Fair Facilities Committee.
As you may have read in Feb. 15 edition of the I-O "Fair board considers plans for building upkeep," the fair board is looking for volunteers to serve on a facilities committee.

The committee is needed to:
• Help identify immediate and near-term improvement projects on the fairgrounds.
• Work with the fair board and the staff to come up with proposals to complete the projects.
• Identify and recruit community volunteer resources needed to complete the projects.
Projects may need to be presented to the fair board and/or the Polk County Board of Commissioners prior to implementation.

If you are interested, please contact Polk County Fairgrounds Manager Tina Andersen at 503-623-3048, or by email at andersen.tina
@co.polk.or.us.
Anna Scharf
Polk County Fair Board Chair
Perrydale