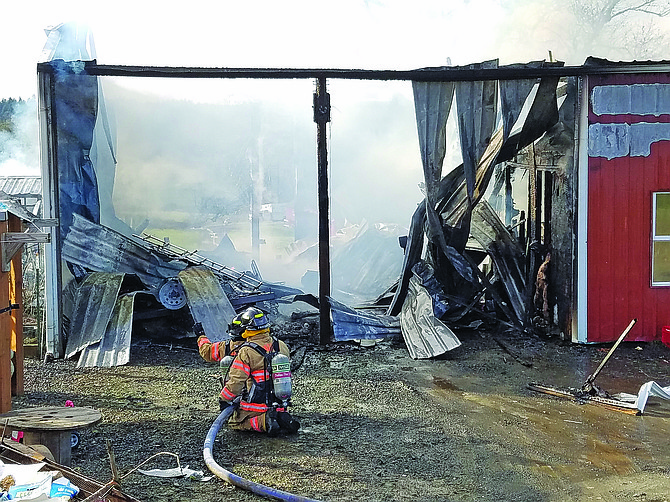 DALLAS — Southwestern Polk Rural Fire Protection District's board is considering placing a bond measure on the May ballot.
The board will discuss, take public comment, and decide on whether to pursue a bond at its next meeting, March 13 at 7:30 p.m. at the Dallas Fire Station, 915 SE Shelton Ave., Dallas.
Learn more
• Southwestern Polk Rural Fire Protection District will discuss a proposed 15-year, $5 million bond at its March 13 meeting at 7:30 p.m. at the Dallas Fire Station, 915 SE Shelton Ave., Dallas.
"That would be their opportunity for the public to have input and to understand more about why we think we need it, what our justifications are," said Fred Hertel, the administration for both Dallas Fire & EMS and Southwestern Polk.
The 15-year, $5 million bond would cost taxpayers in the district 69 cents per $1,000 of assessed value on properties. It would include purchasing self-contained breathing apparatus units, needed to maintain the district's current level of service, and building a station on Salt Creek Road to improve responses to accidents and incidents on Highway 22.
Hertel said the board will review and discuss a detailed financial analysis report regarding the bond at the March 13 meeting.
Southwestern Polk's breathing units expire in April 2019, and the agency can't afford to replace them with its current revenue stream, he said.
"If we don't replace those, then as a firefighter, we can't go into any area that has smoke, can't go into a burning building if there's somebody in there or any of that for OSHA (Occupational Safety and Health Administration) regulations," Hertel said. "It has a significant impact on what service we can provide."
Hertel said the bond would purchase new communications equipment, another need for the district. The radios used now are obsolete and can't be repaired if they break because parts are no longer available.
"Communication is a huge thing when you are on the ground and you have to coordinate activities that can be on multiple sides of buildings or on top of buildings or under them," he said. "Communication is a big safety factor for us."
Response times to accidents on Highway 22 would benefit from the bond, which would pay for building a station on property the district owns on Salt Creek Road.
"We will build a small, two-bay fire station that will allow for quicker response to Highway 22 car crashes. Right now, that response either has to come from Rickreall or here (Dallas). It will allow for a much quicker response to those incidents," Hertel said. "Roughly 75 percent of crashes happen on Highway 22. It's where we respond to most often."
A basic financial evaluation of the district included in a 2016 master plan conducted for the district and Dallas Fire & EMS found that Southwestern Polk is currently spending more money than it is bringing in in property taxes.
To balance its 2015-16 budget, the district had to transfer funding from reserve funds into its general fund.
Southwestern Polk's funding comes from the tax base within the district, separate from Dallas', which comes from taxes paid by city residents. The district's permanent tax rate is 86 cents per $1,000 of assessed value.
The two entities are mutual aid partners, meaning they respond to fire, accidents and incidents in the coverage areas of both agencies. Hertel is the administrator for both Dallas and Southwestern Polk via an intergovernmental agreement between the two agencies.
Southwestern Polk covers 123-square miles surrounding the city limits of Dallas, including the Rickreall area. The district is primarily residential and agricultural in nature, with some forestland. The estimated population in the district is 6,100.
Without a change in finances, Southwestern Polk will deplete its year-to-year carryover and be running in the red by fiscal year 2020-21, according to the master plan.
Southwestern Polk has stations in Dallas, Rickreall and Falls City. In a cost-cutting measure for the district and Dallas, Hertel consolidated resources at the Dallas station, replacing two aging fire engines with one new one.
"We've found ways that we can cut our expenses, and re-evaluated our services and how we provide them and cut costs," Hertel said. "We are to the point where if we can't pass the bond measure, we are going to have to make some significant changes to our service level."