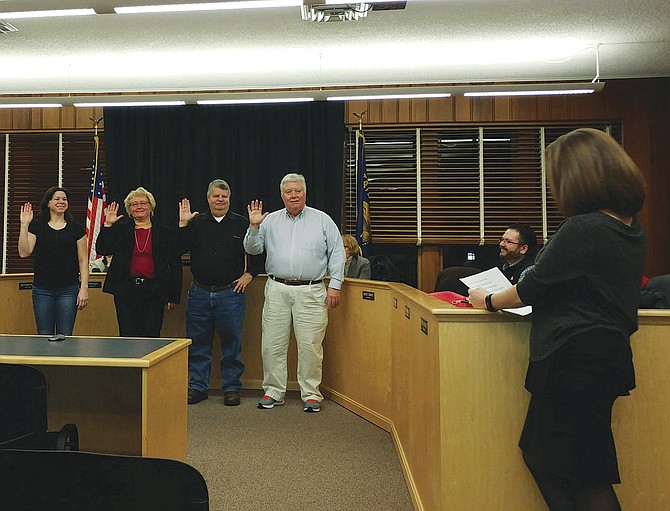 DALLAS — Election of a president of the Dallas City Council will wait for at least its next regular meeting.

As is typical for the first meeting of the year, one of the first items of business on the agenda is electing a new council president.
What isn't typical is to have two ties and a coin flip during the voting and still not come away with a council president, but it happened on Jan. 3.
On Jan. 3, four of the five re-elected or newly elected councilors took the oath of office and took their seats.
Councilors Jennie Rummell, Kelly Gabliks, Paul Trahan and Ken Woods Jr. all were sworn in.
Terry Crawford, who is newly elected, was absent from the meeting, leaving the council with an even eight members for the night.
The council president is nominated and elected by members of the council and has the responsibility of running meetings in the absence of the mayor, per the city's charter.
The charter also states: "Whenever the mayor is unable to perform the functions of the mayor's office, the president shall act as mayor, but shall not have the power of veto."
Three councilors were nominated for the post: Micky Garus, Ken Woods Jr., and Kelly Gabliks.
On the first ballot, Garus received four votes and Woods and Gabliks received two each.
Mayor Brian Dalton suggested a coin flip to decide whether Woods or Gabliks would continue to the second ballot.
Woods won, and in the subsequent vote, Garus tallied votes from himself and councilors Jackie Lawson, Rummell and Trahan.
In addition to himself, Woods got the votes of councilors Gabliks, Jim Fairchild and Bill Hahn.
The council decided to wait until all nine councilors are present to take another vote on who will be the next council president.
In other business, the council:
• Heard that the city is working on a purchase contract for property around the Mercer Reservoir. City Manager Ron Foggin said the city is working on land use changes with the county.
• Heard that the city is shooting for a springtime groundbreaking on the new senior center that is to be built near the Carnegie Building at the corner of Court and Church streets.
The Dallas Planning Commission was scheduled to conduct a public hearing and site plan review on plans for the center at its meeting on Tuesday, which took place after press time.