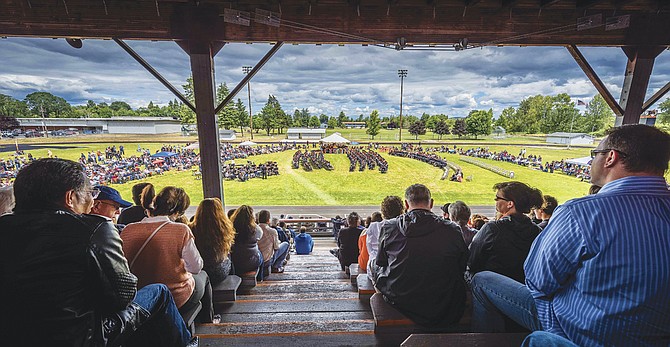 DALLAS — Results from a survey testing for lead-based paint and asbestos in Dallas School District buildings may increase costs of maintenance bond projects.
The district commissioned the study, performed by JSE Labs of Milwaukie, to help prepare for maintenance work projects. It revealed what officials had thought would be the case with lead-based paint.
"In the lead-based paint testing, we were able to confirm suspicions, and we found lead paint in every one of our buildings," said Kevin Montague, the district's facilities director, during Monday's Dallas School Board meeting.
That included the Dallas High School stadium, which had readings that were particularly high for lead-based paint.
"The results of the tests will result in significant cost increases to any future renovations to the bleachers as a result of the lead paint mitigation that we now will have to undertake, knowing that facility has a significant amount of lead-based paint," Montague said.
Asbestos testing had a few surprises in store in that items expected to contain asbestos didn't. The opposite is also true.
"Overall the new assessments provide us with a more detailed plan and a quick-reference map which will allow staff to quickly identify areas which contain asbestos containing building materials," Montague said.
In other business, the board:
• Learned the district will have more time to finish seismic upgrades at Whitworth Elementary School. The state awarded the district a grant for seismic improvements at the school in May 2016, with a 24-month timeline to finish the project.
Montague said that meant all the work had to be condensed into one summer, which would have been difficult to pull off. The district requested an extension of the deadline, and the state granted it. Projects now must be done by November 2018.
• Learned the Dallas High School production of "The Aristocats" raised more than $1,300 for Sable House.
• Heard the district's food service program donated several cases of perishable food to Christmas Cheer after school was canceled due to snow just before Christmas break. The food, which would have spoiled before students returned to school, was used to fill more than 300 food boxes delivered in the community.