DALLAS — After 12 years, Chelsea Metcalfe, event planner with the Dallas Chamber & Visitors Center and the organizations' former executive director, is leaving the organization.
JD Shinn, the chamber's CEO, announced her departure on Jan. 3, which was Metcalfe's last day on the job.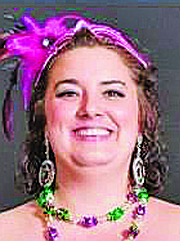 Metcalfe has played a major role over the last 12 years with the chamber and visitors center, Shinn said.

She has served in many capacities, including board member, board president, executive director and chief event planner.

"It's time to make room for new leadership and a new direction," Metcalfe said in a statement. "I've come to realize that it's time to step away fully from these organizations so that they can move in a new direction that will be best for the Dallas area.
"This community has my heart and I have enjoyed being a part of both organizations through the years. I am confident in JD's ability to lead the organizations from where they are now to new heights."
Shinn, who took over as CEO in October 2016, recognized Metcalfe's years of service in Tuesday's announcement.
"Chelsea has a great amount of knowledge about the area and the town of Dallas, as well as a great passion for this community," he said. "I have no doubt in my mind that she will be successful in her next endeavor."

Shinn said Metcalfe will be replaced, but he said he isn't sure what the job description on the position will look like just yet.
"That will be a little up in the air," he said. "I would hope to have someone by the end of the month."
Metcalfe had been focusing on planning events with the Dallas Area Visitors Center since stepping down as the chamber's executive director in October.