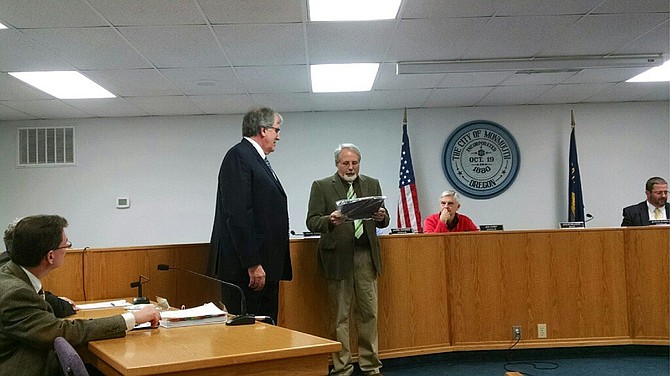 MONMOUTH — The city of Monmouth is now compliant with the state's whistleblower protection laws.
The council passed the city's policy unanimously at the Jan. 3 council meeting after much discussion about definitions and protection against retaliation.
The state legislature passed a law in 2016 requiring government organizations to have a whistleblower policy, City Manager Scott McClure said in a memo to the council. The policy passed at the meeting was taken from the city's insurance agency, as well as state law.
Councilor Laurel Sharmer asked about protections against and definitions of retaliation.
"It's a whole change in work environment," McClure said. Retaliation could be anything from losing a parking spot, a change in position, or being shunned.
Councilor Byron Shinkle asked about the city's human resource department, which was not mentioned in the policy.
McClure said there is no official HR department. Instead, employees would start with a complaint or concern to their manager or department head, and work their way up to McClure.
Councilor Tom Steinke had concerns about the language in the policy, which reads, "The city will not retaliate against an employee who discloses information that the employee reasonably believes is evidence of … gross waste of funds … substantial and specific danger to public health resulting from action of the city."
"I would remove the word 'gross,'" Steinke said. "If someone's wasting $10 a week, I want to hear about it. All that does is reduce the confidence that their complaint is protected."
Shinkle said that while he understood Steinke's point, the whistleblower policy was intended to elevate the level of egregiousness of what's going on, "so as not to encompass anyone who complains about a faulty stapler if I don't use it correctly."
McClure said the policy is intended to protect employees complaining about something substantial.
"I would err on the side of too many complaints as opposed to squelching legitimate complaints," Steinke said.
After a failed motion to table the item for future meetings, the council unanimously passed the policy.
In other business:
The Monmouth Engaged bicycle and pedestrian committee was approved for grants from Cycle Oregon to pay for two bicycle repair stations. One will be installed near the Monmouth Police Station on Highway 99's bike path, and the other near the Main Street Park amphitheater.
Bicycle repair stations include a pedestal and all the tools needed to repair a bike, as well as an air pump. The stations are included in some smartphone apps that use GPS, McClure said.
Also, the council adopted regulations to enforce the 3 percent tax on recreational marijuana that voters approved in November 2016.