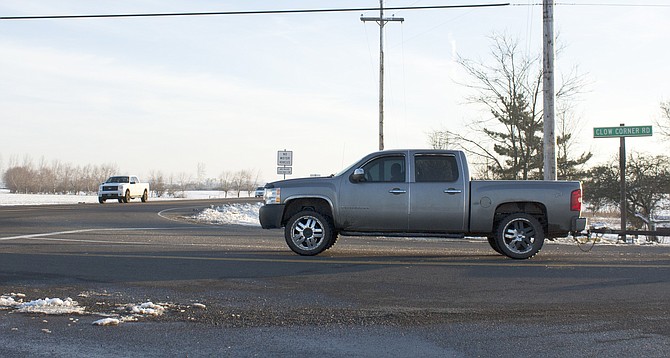 POLK COUNTY — Roundabout.
That's the solution for the intersection at Clow Corner and Highway 99W that Polk County and Oregon Department of Transportation officials agreed to pursue Tuesday morning.
County officials say it's not a perfect solution and more expensive than the traffic signal they have been wanting for a decade, but it's at least doing something at an intersection that has a history of serious crashes.
As of September, the intersection of has been the spot for 32 crashes in the last 10 years, according to ODOT. Of those, five were very serious crashes, with two fatalities. County officials said other serious crashes have occurred since a fatality in September.
ODOT has $3.39 million in an account waiting to be spent on a safety improvement at the intersection, about $1.6 million short of what would be needed to build a roundabout. Tim Potter, ODOT's Area 3 manager, said he can get started with engineering and right-of-way acquisition now if the commitment is for building a roundabout.
"I've been through my seven stages of grief on this traffic signal," said Craig Pope, the Polk County Commissioners board chairman. "We have money, we can start doing something."
"We need to make a commitment on something that we know safety and engineering is going to say yes to, and we can work as partners on something that can move forward," Pope continued.
The county has supported installing a traffic light at the intersection for nearly a decade. ODOT has rejected this option, but county officials remain skeptical about the reasons, citing the signal at Hoffman Road as an example of a safety improvement.
"I certainly understand both the desire and the drive to have a signalized intersection out there. I get that," Potter said. "My own opinion, the pursuit of the additional funding and closing the gap on the roundabout is a better long-term solution, and frankly the more likely solution, than to push a signal, frankly, uphill against the state traffic engineer."
Potter said he's fairly confident he could find the funding for a roundabout and the project could begin within three to four years.
The county and ODOT have long disagreed on what would be the best solution at the intersection.
ODOT's preference has been for a roundabout, something the county has objected to because of freight and agricultural equipment mobility.
Polk County Public Works Director Whitaker said Tuesday he still has those concerns, and more, but said he's now more convinced about the safety improvements roundabouts offer.
"I've been skeptical of a roundabout at that location since I've been here, but my mind is changing," he said.
He said that is because ODOT has listened to the concerns of truckers and farmers about design and has responded.
"I don't have a problem recommending to my board that they support a roundabout at this location, because I have hope now that we can do one that will accommodate agriculture, accommodate (trucks) and is a big safety improvement," Whitaker said.
He added that he has concerns about drivers acclimating to using a roundabout and how it would perform during heavy traffic periods, such as the Saturday of the Civil War between University of Oregon and Oregon State football teams.
Those issues, plus farm and trucking mobility, need to be kept in mind during design and engineering.
"I want to see if one goes in here, that it is an example of success," Whitaker said. "If we do it, it's one that we can look at five years from now and say we did good."
Commissioner Mike Ainsworth said he believes citizens will be irritated at the cost difference between a signal — about $1.2 million to $1.5 million — and a roundabout when the signal at Hoffman has been successful.
Commissioner Jennifer Wheeler and Pope both agreed with Ainsworth on that point.
Nevertheless, the board voted unanimously to work with ODOT to pursue the additional funding necessary to build a roundabout.
"What I like is that it's now, and we are not going to wait 10 more years," Wheeler said. "We just can't wait