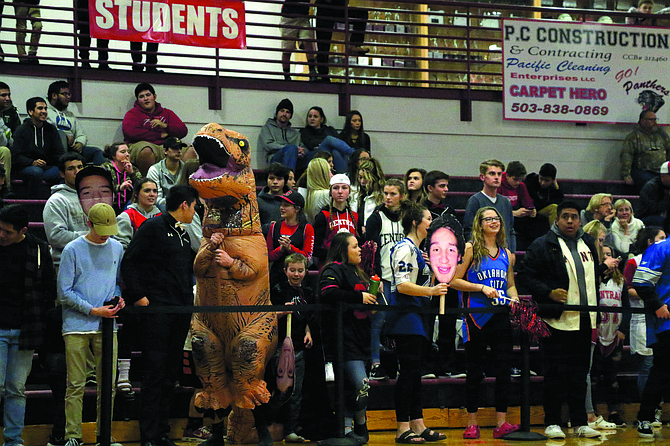 Senior Center open house set
Monmouth Senior Center, 180 S. Warren St., Monmouth, will hold an open house on Thursday from 11 a.m. to 2 p.m. A ribbon-cutting will be at noon.
Donations are being accepted to help with furnishings.
For more information: 503-838-5678.
FLC to hold Bible study series
Faith Lutheran Church, 200 Monmouth-Independence Highway, Monmouth, will hold a Bible study series titled "The Journey from Unbelief to Faith."
The series begins Wednesday (today) at 7 p.m. and will run each Wednesday for four to six weeks.
Pastor Dallas Dubke will lead the discussion, which will include stories of people's journeys from unbelief to faith.
For more information: 503-838-3459.
Nonprofit board training Saturday
The 13th annual statewide nonprofit board training, hosted by the Center for Nonprofit Stewardship, will be held Saturday from 8:45 a.m. to 3:45 p.m. at the LaSells Stewart Center at Oregon State University.
The conference's title is "Essential Tools — NW Nonprofit Leaders Winter Program."
Nonprofit attorneys, certified public accountants and other nonprofit consultants will present workshops throughout the day. Scott Crabtree, founder and "chief happiness officer" of Happy Brain Science, will give the keynote presentation.
Other speakers include David Atkin, Arty Trost, Justin Wirth and Jennifer and Ryan Gardner.
A variety of topics will be covered to help nonprofit organizations of all sizes achieve their missions more effectively.
On-site registration is available at 8 a.m.
For more information: 541-230-1036.
Livestock group to meet Saturday
The Polk County Livestock Association's annual meeting will take place Saturday at the Polk County Fairgrounds, Arts and Crafts Building, at 520 S. Pacific Highway, Rickreall.
Social time begins at 5:30 p.m. with dinner following at 6.
Cost is $15 per person. An optional membership to PCLA is $20 per family.
RSVP by Thursday to polkcolivestockassn@gmail.com or call/text Pat at 503-507-9017.
Scott Wagner will be the keynote speaker. He will present on the new veterinarian feed directive.
Presentation on slavery in Oregon
A presentation and discussion about slavery in Oregon will take place Monday at 7 p.m. at Independence Civic Center, 555 S. Main St., Independence.
Author R. Gregory Nokes will discuss his book, "Breaking Chains: Slavery on Trial in the Oregon Territory."
There is no cost to attend.
For more information: 503-838-4989.
Living well with diabetes workshop
The Flaming Medical Center, 1000 SE Uglow St., Dallas, will hold a six-week workshop featuring practical skills for living with diabetes.
The workshop begins Tuesday and will be held weekly from 9:30 a.m. to noon through Feb. 28.
The Living Well program was developed by Stanford University and is conducted throughout the United States and internationally.
Topics include working with your health care team, managing symptoms and medications, problem solving, setting weekly goals, getting support from family and friends, and learning how to be active and eat well, which impacts your blood glucose.
Class materials, including course book and CD, are provided without charge.
On-site registration is available. For more information: 503-587-5129 or email to livinghealthy@mvipa.org.
Ag Fest vendor space available
The second annual Mid-Valley Winter Ag Fest returns Feb. 25-26 at the Polk County Fairgrounds and the Polk County Museum. A bounty farmers market will be featured, and all aspects of local ag commerce will be promoted.
Vendor space is available for the event. Cost is $40 for the two-day event to local farms and vendors. Sponsorships are also available.
Proceeds from the event benefit Polk County 4-H and FFA.
For more information: debthomas3055@gmail.com.
Community-wide Bible study begins
Praise Assembly, 189 Monmouth Ave. S., Monmouth, and Dallas Four Square Church, 976 SW Hayter St., Dallas, will take part in the communitywide women's Bible study.
Studies begin Monday. Praise Assembly will hold Bible studies on Mondays from 6:30 to 8 p.m. and Wednesdays from 10 a.m. to noon.
Dallas Foursquare Church will hold studies Thursdays (beginning Jan. 26) from 6 to 8 p.m. and Fridays from 9 to 11 a.m.
To register: www.midvalleywomenofchrist.org.
Historical Society annual meeting
The Polk County Historical Society will hold its annual membership meeting Saturday at 1:30 p.m. at the Polk County Museum Stafrin Room, 560 S. Pacific Highway W., Rickreall. Members will select board members for the nonprofit corporation.
The meeting will also recognize volunteers.
For more information: 503-623-6251.
Dallas library to feature McAllister
Dallas Public Library, 950 Main St., Dallas, will feature the artwork of the library's own Andrea McAllister. McAllister is a freelance artist who has done illustrations for children's magazines, educational materials, books and rubber stamp companies.
Her illustrations usually combine water color and colored pencil. On portraits, she uses colored pencil on toned paper.
For more information: www.andreafitcha.com.
Library coloring night returns
Dallas Public Library, 950 Main St., Dallas, will host Adult Coloring Night: Coloring, Conversation, Cookies, Thursday at 5 p.m.
Adults may bring their own supplies or use supplies provided by the library. Light refreshments will be served.
Sock drive now through Sunday
Dallas First Christian Church, 1079 Jefferson St., Dallas, is holding its annual sock drive now through Sunday. The socks will be provided for those in need, homeless or at risk of homelessness. Socks can be donated at the church between 8:30 a.m. and noon through Friday, or Sunday morning from 8:30 a.m. to noon.
The drive is held in conjunction with the Polk Community Connect, held Jan 25 from 9 to 3:30 p.m. at Valley Life Center, 1795 SE Miller Ave., Dallas.
Those in need, homeless or at risk of homelessness can receive free help from local resources and services, and a free meal.
To volunteer: polkconnectvolunteers@gmail.com.
Native plant sale orders due Friday
Orders for the 2017 native plant sale are due by Friday.
Orders can be completed online at www.polkswcd.com.
Order pickup will be Feb. 4 from 9 a.m. to noon at the Polk County Fairgrounds, 520 S. Pacific Highway, Rickreall.
More like this story