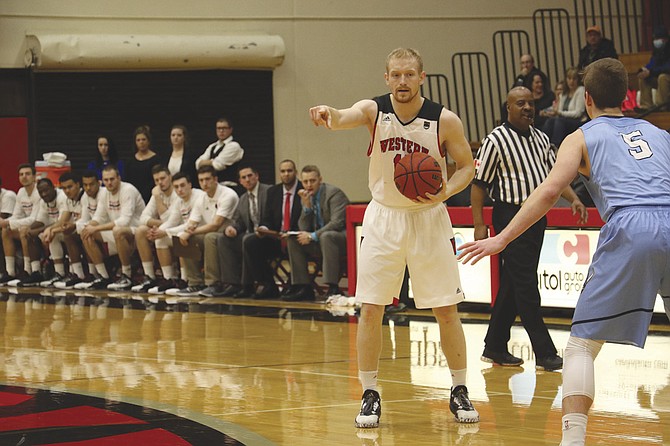 MONMOUTH — Western Oregon junior forward Tanner Omlid isn't afraid to lay it all on the line for his team.
He does much more than lead the team in scoring, averaging 14.9 points per game, and assists (57 total). He's among the leaders in steals per game in all of Division II (3.06) and ranks first on the Wolves in rebounds (118) and blocks (29).
In short, Omlid does it all.

"Tanner's biggest strength is his intangibles," coach Jim Shaw said. "His competitiveness, his physical toughness. He's not the best shooter, dribbler or passer, but he's very tough. He plays very hard, is extremely competitive and has good anticipation."
It's a common sight to see Omlid diving for a loose ball, hustling down the court to get back on defense and routinely laying his body on the line to make a play.
"My dad started coaching me back in elementary school," Omlid said. "One thing he focused on was defense. He said everyone can play defense, no matter how athletic or unathletic you are."
That kind of hustle can be traced back to two main things — fishing and his love for his teammates.
Each summer, the Omlids go on a three-month fishing trip. This isn't a relaxing day out at a lake, though.
This is a fishing trip at Kodiak Island in Alaska.
"We've gone every summer in my life," Omlid said. "We drop the cellphone for three months, go fish, and try and make some money."
The experience gives Omlid something invaluable.
"The commercial fishing in Alaska I believe instilled a work ethic and grit within him," Tanner's father, Keith, said. "I believe there is weight room strength and then there is 'man'" strength — kind of like when your granddad shakes your hand and he's got a vice grip. Commercial fishing probably gave Tanner some of that."
The days are long, but it's made Omlid a stronger player and person.
"It really taught me how to work and developed my work ethic," Omlid said. "I have strong hands and shoulders because of it. (That strength) really helped me on the defensive side."
While his work ethic helped develop his physical tools, his teammates drive him emotionally — and not just his current ones. From his time at the U.S. Military Academy, Omlid is out to honor his teammates every time he steps on the court.
"I play for everyone on the team," Omlid said. "I play for my guys back at West Point. During the national anthem, those are the guys I think about. It motivates me to play harder."
And, at his core, is a burning desire to come out on top.
"It doesn't matter if it's commercial fishing, basketball, sport fishing, hunting, hiking or video games, he's very driven to win," Keith said. "He's the guy that losing hurts more than the enjoyment of the win."
Omlid may be having a stellar season, but WOU has struggled to find consistency.
The Wolves entered the week in fifth place in the Great Northwest Athletic Conference standings with a 5-3 mark in conference play and an 8-8 record overall.
WOU rolled to a 25-point win over Simon Fraser on Thursday and jumped out to a 13-1 lead against Western Washington on Saturday before falling 84-76.
"On Saturday, we had a chance to beat a team that is more talented than us at home," Shaw said. "We had the right mindset and came out great, but just didn't have enough to sustain it. I didn't think we had very good point guard play."
The Wolves have shown flashes of great team play. Finding that on a consistent basis remains a struggle.
"That has to do a lot with team chemistry and confidence," Omlid said. "Confidence is one of the biggest things in basketball. I'd say 90 percent of a shot is mental."
For now, the Wolves are a good, not a great, squad. But Western Oregon is capable of beating the GNAC's best teams.

"It's a two-pronged solution," Shaw said. "We have to have Tanner and Ali (Faruq-Bey) play at a high level, and we have to have some other guys step up. J.J. Chirnside has stepped up and is doing a good job for us. We need one or two other guys step up and not necessarily do great things, but be able to contribute. I think this group is doing a pretty good job. We have to take one more step to beat the GNAC's best."