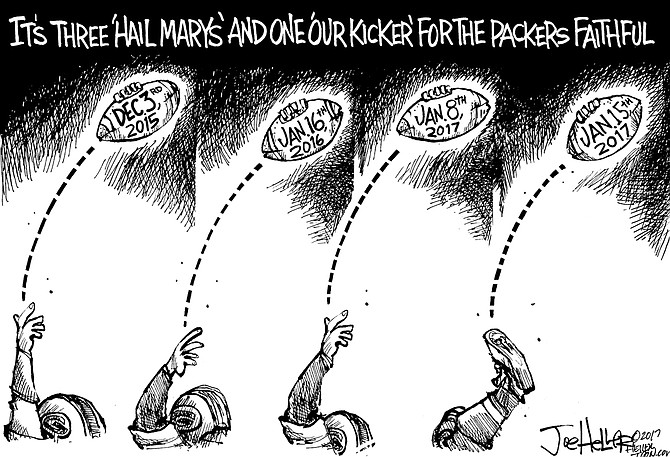 Thanks for supporting 'Fuzzy'
We are always overwhelmed by the generosity from the outpour of warm clothing articles that the community donates to our clothing drive.
Please know how very much it has been appreciated as we complete our 26th year of the "Warm & Fuzzy" clothing drive.
We truly appreciate the staff at Star Lite Lanes for always allowing us a collection site at their business.
God bless you all. Best wishes during this holiday season and new year.
Deb Darr
and The Darr Family
Dallas
Unite against biased tree huggers
After reading the Jan. 11 letter to the editor urging readers to unite against the timber industry, I felt compelled to respond.
I would like to think most Oregonians are aware of the important role of the timber industry in the Oregon economy.
Oregon has always had the best forest management practices of any state, including federal, state and private timber lands.
When the timber industry was strong, we did not have serious problems with school budgets in the state.
Environmentalists have played a very large role in crippling the timber industry in this state.
As a result, schools have declined, the economy has declined, especially with the downturn in the tech industry, which many people embraced as the answer to our economic woes.
The results of reduced logging include lack of road maintenance in forest lands, increased fire danger, increased erosion in non-managed areas, and reduced quality of existing timber stands due to lack of needed management.
Concerning coastal watersheds that are on private lands, it seems the land owners are being very generous in allowing water resources to be used for public water supplies.
If overall water quality was compared to most municipal water supplies, I would bet coastal water supplies would compare favorably.
Research concerning most of the warnings regarding coastal water quality indicates the concerns were mainly due to sediment in the water rather than chemical contamination.
For anyone who has witnessed coastal streams after winter rains, they get a little muddy for a few days even in watersheds where no logging has been done.
Regarding road closures on private lands, most closures are due to public damage to roads, garbage dumping, illegal harvest of trees, illegal firewood cutting, starting of fires, damage to replanted timber, and erosion caused by off-road operation of vehicles.
John Matteson
Rickreall
Bell's quotes reflect inaccuracies
Emily Mentzer's article on the superintendent search in the Jan. 11 issue of the I-O included several factually incorrect quotes from former District 13J employee Forrest Bell.
I served on the school board when Mr. Bell was superintendent from '99-02. Mr. Bell is quoted as saying that Central High School's teaching staff does not live in the community.
While this may have been predominantly true 15 years ago, it is no longer true.
Today, most CHS teachers live in our community, and some have lived here for 20 years or more.
Mr. Bell characterizes the local teacher's union as "old-school" who will "protect their worst people."
While I disagree with the union on many things, I have never seen it try to protect an incompetent teacher in the 23 years I've been involved with the district.
Rather, I've seen the union function as the only bulwark against poor leadership that inflicted great harm on students with errant policies predicated on ineffective, "hot" educational theories fresh from academia.
One only needs to look at the grading system chaos inflicted by the previous principal to understand the frustration and desperation the teachers felt at CHS.
The 2016 class valedictorian brought it up in his graduation speech as an example of how his fellow students had to overcome adversity.
Mr. Bell pointed out the "community's going to get frustrated with" the union.
Historically, through all the trials wrought by ineffective leadership that alienated both the community and district staff, the support the union received from the people of Monmouth and Independence has never wavered.
Finally, Mr. Bell states the union will simply be obstructionist to the next superintendent.
I disagree.
The teachers I know want to work closely with a responsive and effective leadership cadre. Anything less is a heartache nobody wants again.
John R. Bruning
Former Independence City Councilor 96-99, Central 13J Board Member 99-02
Independence
Schools should add extra weeks
There should be no need for school districts to worry about not meeting the state mandated minimum amount of hours students are required to be in school because of weather.
This issue was highlighted in the Jan. 11 Itemizer-Observer.
For some reason Oregon has always designated to choose the very minimum — or close to it — the number of school days dictated by federal and state law.
In my opinion it would benefit the students if a couple weeks of school were added each year.
It might even raise the number of students that successfully graduate each year, since Oregon is always near the bottom compared to the rest of the nation.
Bill J. Kluting
Monmouth
Lack of clarity results in cold walk
A young woman was in Polk County Jail and due be released on Jan. 11 at 7 a.m., but when I went to pick her up she was not there.
Even though I called to confirm the release time at 6:30 a.m. and was told she was to be released at 7 a.m.
I went down to pick her up and was told that she was not in the building and had been released.
She was released at 6:15 and was not allowed to call and tell me she was out.
She had to walk home in the snow, since not much is opened at 6:15 a.m.
She did not have adequate clothes to be out in the snow, and it took her 40 minutes to walk home.
In the meantime, I was looking for her by driving around Dallas.
She called a little after 7 a.m. and told me she was home.
This is not right.
When released earlier than scheduled time, they should be allowed to call the person who was picking them up.
Janice Wiens
Dallas