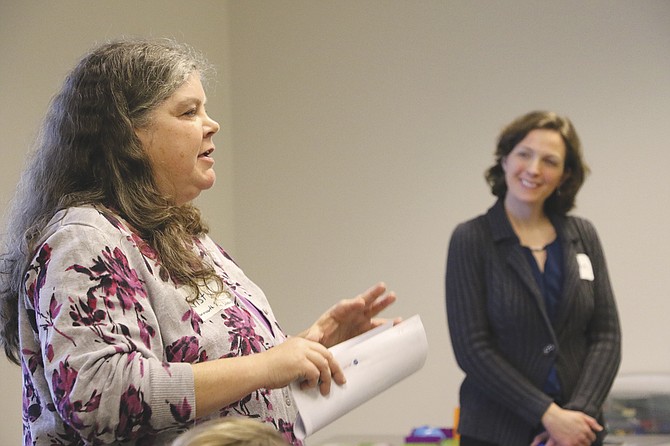 MONMOUTH — Monmouth Public Library hopes to provide experiences that are out of this world — with a little help from NASA.
Monmouth was one of three libraries across the country to be chosen for the NASA @ My Library program.
"We are looking for ways to connect NASA with libraries and the people that use libraries in our country," said Keliann LaConte, professional development manager from the Space Science Institute.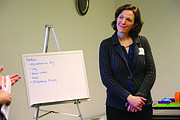 Monmouth Library Director Krist Obrist said she was just searching for ideas for the library to use the solar eclipse to spur interest in the library.
"I was trying to see what can we do and how we could get involved," Obrist said. "I came across Starnet, which works with libraries, and it had some resources available. It said sign up and get 50 free glasses. I'm all for saving money, so I was pretty excited."
LaConte was looking for potential libraries to join the NASA @ My Library program and saw that the Monmouth library was showing interest in the eclipse.
It was a match made in the heavens and Monmouth was one of three libraries chosen for the program.
All three libraries selected are on the path of totality — meaning they will all see a full solar eclipse this August.
"Over the next several years, we'll be working with three different libraries," LaConte said. "We want these libraries to have the opportunity to have this moment with their communities in their backyard, and we want to work with all of these libraries for the next several years."
The program hopes to help groups that aren't represented in science or related fields have chances to learn about science, and help groups that don't often visit the library begin to form a relationship there.
"There are some gaps as far as Latinos, African Americans, American Indians, Alaska natives, Pacific Islanders, the economically disadvantaged, and women and girls," LaConte said. "We want to make sure those who are in communities without a science center have access to these kinds of opportunities."
LaConte said the program will offer resources to learn how best to serve each of the libraries to get kids excited about science.
Much of the NASA @ My Library program is aimed at younger audiences, but Obrist said she plans to offer programs aimed at people both young and old.
"A lot of the materials are geared more toward elementary-aged kids, but we're looking at more for the whole community," Obrist said. "It's really important not only getting the kids excited about science and looking at new ways they can engage, it's important to have their families support them and know what they're doing and get excited too."
The meeting also held an open discussion with members from the community, which included parents, educators, and citizens, about science, tecnology, engineering, and math , how the library can capitalize on the solar eclipse, and how to increase attendance and participation at the library — particularly among groups who don't often visit.
"We want to see where we could make the most differences, make connections between NASA, public libraries and state libraries to enhance the learning opportunities available," LaConte said.
Both Obrist and LaConte expressed optimism about the tone and details from the discussion and hope that with community members helping to follow up with some of the ideas stated that the library will attract new patrons.
"I thought it was a really good meeting," Obrist said. "We had representation from a variety of different organizations and great connections were made. I think we're really excited about the possibility of what kind of programs we might come up with during this project period and beyond."
Obrist said the library sent invites to a number of people within the community to take part in the discussion to get a wide range of views and possible resources as possible.
With the solar eclipse on the horizon and the NASA @ My Library program primed to help the library continue to build momentum into the future, Obrist said the library is in a unique position to become an even more integral part of the community that everyone can use.
"It's an opportunity to learn and grow," Obrist said. "One thing about public libraries is we're life-long learning institutions."