DALLAS — Erin Osgood, Polk County's new veterans service officer, is more than ready to begin helping those who have served.
Since starting the job on Jan. 3, Osgood and her assistant Marie McCandless have had their hands full getting their new office running.
"It's a brand-new building, so we've been hitting a few roadblocks just making sure everything works properly," Osgood said. "We haven't been up and fully functioning yet. We are hoping for a soft opening by the end of (this week) when we can see veterans."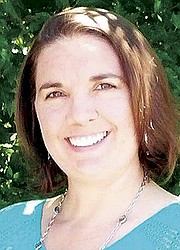 The position is new for Polk County, and the cost is being split between the state and county.
Before this year, veterans had to go to the Veterans Affairs office in Salem for help with their claims.
Osgood, who grew up in the Corvallis and Albany area, previously served as the VSO in Grant County for 18 months.
She and McCandless are U.S. Army veterans, and they both are eager to bring better service to the veteran community in Polk County.
"I like working with veterans. It's a nice way to give back," Osgood said. "Since I can no longer serve, it's nice to serve those who served."
Serving those who served
What: Polk County Veterans Service Office.
Where: 240 SW Washington St., Dallas.
Hours: Monday through Thursday 8 a.m. to 5 p.m.
Contact: 503-623-9188; website, http://www.co.pol...
Osgood said what she's seen of the support system in Polk County for those in need, including veterans, is impressive.
She's already a member of the county's service integration teams, a program that pools resources in each community to help those needing assistance.
"I'm just really excited to start work here in Polk County," Osgood said. "I've been really surprised at all the amazing services that are already in place here. There's already such a strong sense of community in this county and I'm really excited to be part of it."
Osgood's main responsibility is to help veterans navigate the complicated claim process with the U.S. Department of Veterans Affairs.
She can walk veterans through applying for medical, disability, home loan and education benefits.
"We spend time with veterans making sure that their … claims are correct so they are getting the benefits they deserve and they are getting the money that they are entitled to," Osgood said. "It is very complicated. The VA is very particular in how they want claims filled out. The paperwork can be very confusing, so we spend a lot of time with veterans filling out the forms with them. We make sure everything is correct so that they get the correct benefits as quickly as possible."
With an estimated 8,000 veterans living in Polk County, Osgood is betting her office will be busy.
"We are excited to take on the challenge, and we will meet whatever need is here in the county," she said.
Osgood said she plans to begin outreach efforts to the Falls City and Grand Ronde areas soon in hopes of reaching veterans who may not otherwise come into the office.
"I plan to do a lot of outreach to those smaller communities because I know that travel is often a barrier to service," she said. "I will be going out to those smaller communities myself to help the veterans out there."
McCandless said a secondary, but critical, function of the office is referring veterans to where they can get help for other needs, such as housing, utility bill assistance and emergency food.
"Part of our job is going to be to connect those veterans coming in for help with disability claims to resources here in the community, get them connected to the support groups here," McCandless said.
She added the office has gotten several calls from people and organizations wanting to help them get started.
"Us, being new here, they are really sharing as many resources as they know with our veterans, so we make sure that everybody is getting what they need," McCandless said.
Osgood's first big community event will be next week's Polk Community Connect, an event providing help to people and families who are homeless or in danger of becoming homeless.
"We are going to take it on, and we are going to see if we can help as many people as possible that day," she said.