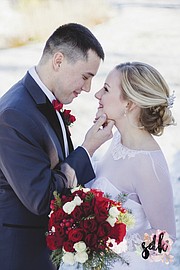 Alex Hernandez, of Albany, and Leahgrace Connor, of Dallas, were married on Dec. 16, 2016, by the bride's father, Jerry Connor, at Calvary Chapel in Corvallis.
Leahgrace is the daughter of Jerry and Lucinda Connor, of Dallas. Alex is the son of Augie and Amy Hernandez, of Albany.
The bride and groom both attended Santiam Christian, and after graduating, both now attend Linn Benton Community College. The groom aspires to be an Air Force pilot and the bride a teacher.
The man of honor was Cy Schaefer. Bridesmaids were Sabrina Schaefer and Madison Hernandez.
The best man was Thien Nguyen. Groomsmen were Ben Winnett and Jerome Connor.
The couple honeymooned in Canada for a week and will be making their home in Philomath.
More like this story