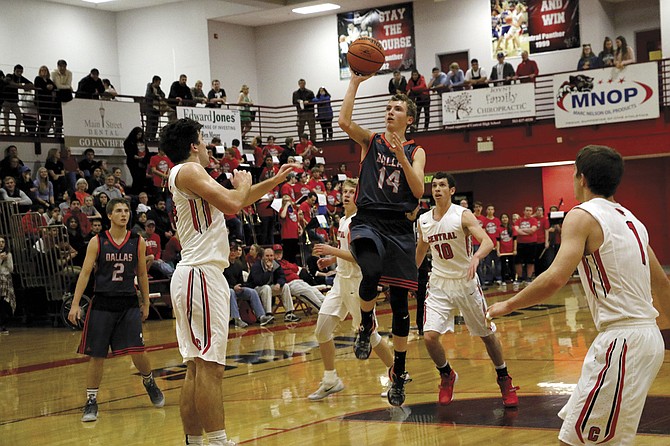 INDEPENDENCE — Dallas' boys basketball team defeated Silverton 47-44 on Jan. 18 before falling to Central 51-38 on Friday.
The Dragons rallied from an early 10-5 deficit against Silverton to take a 26-17 lead into halftime. Jason Richey scored a team-high 17 points.
Jake Collins scored eight points, and Evan Courtney added seven points, including five in the fourth quarter.
Dallas kept it close with Central, trailing 29-24 after the second quarter, but some cold shooting allowed the Panthers to pull away in the second half.
"I'm not too happy with our composure in the third quarter," coach Trent Schwartz said. "I think we panicked a little bit and started to not execute. We got a little impatient in our offense when we should have waited for better shots, and it snowballed on us a little bit."
The Dragons scored four points in the third quarter.
Aaron White scored a team-high nine points.
Dallas played Woodburn Tuesday after press time.
The Dragons host South Albany Friday at 7 p.m. before playing at Lebanon Tuesday at 7 p.m. Dallas entered the week with a 2-2 record in Mid-Willamette Conference play and 6-7 overall.
"This league is extremely tough," Schwartz said. "There's a tremendous amount of parity. When we miss a shot, we have to go get a stop on defense. If you start thinking about missing shots, it's all mental. You'll miss your next shot more than likely. You have to get fired up on the defensive end, get a stop and go execute on offense to get a better shot the next time down."
FORD, DRESSEL LEAD SWIM TEAM: Dallas senior swimmer Jolie-Rae Ford took first in the girls 100-yard backstroke during the Dragons' dual meet at Lebanon on Jan. 10. Ford finished with a time of 1 minute, 8.32 seconds. Ford also won the 50 freestyle in 26.94 seconds.
Isaiah Dressel won the boys 200 individual medley in 2:58.87. Ryan Kennedy took second in the 200 freestyle (2:10.82) and 50 freestyle (26.31).
"I am pleased with the progress of our swimmers," coach David Morelli said. "The swimmers are improving as we move closer to districts."
Lebanon's boys and girls teams defeated Dallas.
The Dragons hosted Central Tuesday after press time. Dallas travels to South Albany Tuesday at 4 p.m. for the team's final meet before the district championships Feb. 10-11 in Corvallis.
GIRLS BASKETBALL DROPS TWO: Dallas' girls basketball team lost to Silverton 34-21 on Jan. 17 and to Central 42-40 on Friday. The losses snapped a five-game win streak.
The Dragons (7-6 overall, 2-2 MWC) played Woodburn Tuesday after press time. Dallas plays at South Albany Friday at 7 p.m. before hosting Putnam Monday at 7 p.m. and Lebanon on Feb. 1 at 7 p.m.