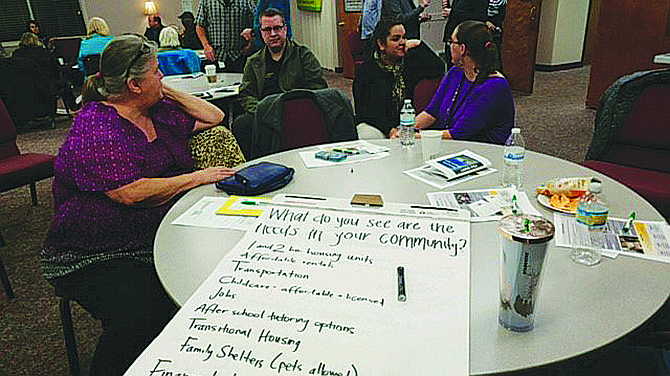 DALLAS — To afford an average two-bedroom apartment in Dallas, a person must have a job offering $14.36 per hour. In Oregon, 40 percent of jobs pay less than $15 per hour.
Those stats were part of a pop quiz put together by the Salem Interfaith Hospitality Network given to attendees at a community forum on Thursday addressing homelessness in the area.
Another number: Rental vacancy rate in Dallas in 2015; 0.76 percent.
Those statistics paint just one part of the picture facing people and families struggling with homelessness in the Polk County area.
Thursday's meeting, hosted at Valley Life Center in Dallas, was the first of its kind that Brent DeMoe, director of Polk County's Family and Community Outreach department, can remember in the time he's worked with the county.
"We're not going to solve everything in 90 minutes, but we've never had a meeting like this in the decade that I've worked here, so this is a really good start," he said.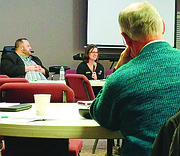 Nearly 80 people attended the meeting, including individuals from county government, law enforcement, churches, and schools. It was designed to inform people of the resources available to people and to brainstorm actions to make the situation better.
Polk County doesn't have a traditional homeless shelter, but does have resources available to homeless people, including transportation to shelters in the Salem area.
You can help
Volunteer opportunities:
• Dallas Community Resource Center, 185 SW Academy St. Suite 220, 503-623-9664; or Central Community Resource Center, 1601 Monmouth St. Independence, 503-606-2310.
• The Salvation Army: Email volunteer@salvati... or call 503-798-4783.
Donation opportunities:
• Fill Our Home, Polk County Family and Community Outreach Warehouse in Dallas, taking donations of new or gently used household items and clothing. Donations are accepted the first Saturday of the month. For more information: 503-623-9664.
• Host a clothing or hygiene supplies drive.
• The Salvation Army Email volunteer@salvati... or call 503-798-4783.
• Salem Interfaith Hospitality Network, 503-370-975 or info@salemihn.org...
T.J. Putnam, the executive director of the Salem Interfaith Hospitality Network, said the organization has been branching out from Salem to Polk County, starting with a partnership with Christ Church in Monmouth.
The organization works with church congregations to provide lodging and meals. SIHN helps families with finding work and housing.
"In the last three years, every family we've helped has been able to leave the shelter for their own home," Putnam said. "It's a testament of parents who want a better life for their kids and a community that can come along side of them to support them."
The Salvation Army offers a similar program at its Lighthouse Shelter in Salem, which has 50 beds for men and 33 for women.
The shelter runs a six-month transition program to help residents get back on their feet.
People do not have to live in Salem to use the shelter. In fact, shelter workers will drive to pick people up, said Melissa Baurer, the director of social services at The Salvation Army.
ontinued from Page 1A
Jimmy Jones, with Mid-Valley Community Action Network, said he's working to get better data on the homeless situation in Marion and Polk counties. He said Lane County received significantly larger amounts of grant funding to address homelessness than Marion and Polk did last year. Based on his experience working with the local homeless community, it isn't because there is less of a problem here.
"My biggest charge, essentially, going forward, is to get an accurate count of the homeless population," he said, noting that Polk County is just as much on his radar as Marion. "I take that 'Polk County' part of that very seriously. We come out here to do assessments. I've been to Falls City; I've been to every corner of this county."
The second half of the meeting was dedicated to hearing ideas from community members about what could be done better immediately and what to work toward in the future.
Immediate suggestions included volunteering to help organizations assisting the homeless population and donating clothing, household items and blankets.
Longer-term needs include more one-bedroom units — or more affordable housing in general; affordable child care; a family shelter; more warming and cooling centers during extreme weather events; more employers and landlords willing to give people with imperfect employment and rental history "second chances"; and more landlord and tenant training on available programs and rights.
DeMoe said he was impressed with the turnout and ideas presented at the forum, and pledged to take the information gathered Thursday and put it into a plan.
"We are not just going to let this meeting happen and then do nothing," he said.