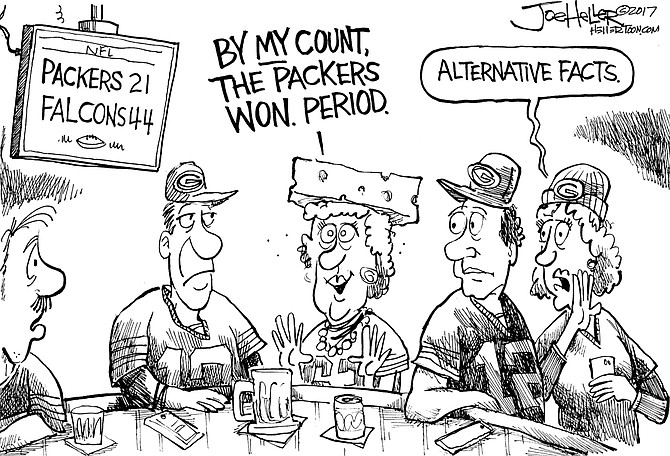 Trump's first action affects homebuyers
Congratulations Trump voters.
Your boy in the White House in his first official act signed a presidential order suspending a plan by Housing and Urban Development to reduce the cost of homeowners' mortgage insurance for first-time home buyers using mortgages backed by the Federal Housing Administration.
Now it will be more expensive for these new buyers to buy that first home. This will negatively impact 750 to 800 thousand working, middle-class Americans each year.
The Obama Administration had planned to lower the cost of this insurance by almost one-third.
But immediately after being sworn, Trump suspended the original plan. If you plan to buy a house under the HUD program, the mortgage insurance on that loan will go up, making it more difficult to afford the home.
Now, Trump's buddies in the insurance business can rest easy that they will be making the maximum possible and increase their income by millions of dollars. Meanwhile, middle-class, working-class Americans qualifying for an FHA-backed mortgage will be less able to afford that first home or will pay millions more for the privilege. Your boy is really sticking up for middle America.
Thanks, Trumpies, even you will be shafted by this.
Fred Brown
Dallas
Stellar service, care at Salem Health WV
In early December, my husband took me to the emergency room of Salem Health West Valley at the direction of my surgeon in Portland. Usually, I have to go to Saint Vincent's Hospital for the symptoms I was having, but the road conditions were not safe. My surgeon said he would be available to the physicians at Salem Health West Valley's ER. Those physicians were incredible. Together this skilled team successfully prevented me from requiring a dangerous surgery.
I was admitted to Salem Health West Valley where I remained for four days. I was impressed with the highly skilled and compassionate care I received. The nurses worked around the clock and were attentive to my needs.
I also want to thank the housekeeping department. There were two women who I called, "The Merry Maids," who I looked forward to seeing every day. They visited me and shared their experiences and their families. They did a great job of cleaning my room and acted as goodwill ambassadors.
Another person that added to the healing process for me was Bill, from the kitchen. He was an absolute delight. When I started the re-feeding process, he helped me plan the menu of foods I could eat.
I tried really hard to cheat and sneak food in the menu that I wanted to eat, but Bill would not let me. He made the re-feeding process fun, and he was very professional.
Those of us in Polk County are fortunate and blessed to have this professional institution right here in Dallas, and my husband and I were so blessed to know that we did not have to race up to Portland to relieve my suffering and prevent a complete intestinal obstruction.
I would highly recommend this hospital to anyone looking for skilled and compassionate care.
Joy McGavock
Dallas
Many thanks for early Christmas gift
The residents of Jefferson Lodge Memory Care Community, located at 664 SE Jefferson Street in Dallas, received an early Christmas gift from the members of New Life Ministries, located in Monmouth.
Jefferson Lodge sends a huge thank-you to the church members who went out of their way to make Christmas so special for their residents. Members donated supplies and their time to make a Christmas ornament for each resident in the memory care community. The handmade gifts were delivered individually and accepted with so much gratitude from the community.
Memory loss not only takes away a person's ability to remember, but it changes their cognitive abilities and sensory perception as well. The ornaments delivered by New Life Ministries not only encourage Jefferson Lodge residents to reminisce about Christmases past, but they provide a piece of beauty for them to enjoy as well.
From everyone at Jefferson Lodge, thank you, New Life Ministries, for dedicating your time and resources to lifting the spirits of our residents.
If you would like to know more about the exceptional care services provided at Jefferson Lodge Memory Care Community, call 503-623-8104 or visit www.JeffersonLodgeMemoryCare.com.
Joy McGavock
Dallas