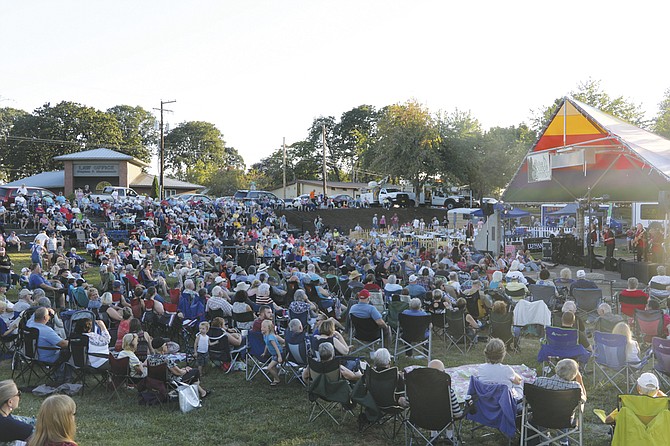 POLK COUNTY — Carrying on tradition, Dallas, Independence and Monmouth will each hold free entertainment in their parks each week this summer. Not only will the usual concerts and movies be put on, but additional shows for the eclipse will be held to celebrate the natural phenomenon taking over the skies on Aug. 21. All shows are free of charge and family friendly.
DALLAS
In a drastic change from past years, the Sounds of Summer concerts will be condensed to four events instead of the traditional format of eight stand-alone concerts each Thursday.
"Due to the emphasis on the eclipse, the city, Dallas Area Visitors Center and all partners involved in planning the Eclipse Celebration on the Square, it was decided, in November of 2016, to de-emphasize the Sounds of Summer," said JD Shinn, executive director of the Dallas Area Chamber of Commerce.
The Sounds of Summer concerts will be integrated with three events this summer — Freedomfest, Summerfest and the eclipse celebration — with one standalone concert at the end of the summer, performed by Johnny Limbo and the Lugnuts.
The eclipse celebration is slated to be the biggest concert lineup, with more than 10 bands booked thus far, though performances are still being finalized.
INDEPENDENCE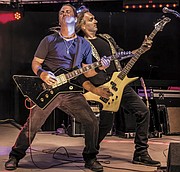 The River's Edge Series of concerts and movies at Riverview Park is adding additional music performances for the eclipse, but that's not the only change this year.
"This year we have some surprises," said event coordinator Alex Trevino. "We have Left Coast Winery on board and, on July 14, one of the major sponsors is going to buy everyone over (the age of) 21 a glass of wine at the concert."
The series will also include two fireworks shows beginning at 9:30 p.m. on Aug. 19 and 20.
MONMOUTH
For the Monmouth's Music in the Park series, it's business as usual this summer. Concerts will be held at the Main Street Park Amphitheater each Wednesday at 6:30 p.m. until Aug. 30. The performers this year range in style from folk to blues, rock to country, and Celtic to Cuban salsa.
On July 19, Hillstomp, the blues duo from Portland made up of John "Lord Buckets" Johnson and Henry Hill Kammerer, will return to Music in the Park.
"It's (the band) very popular," event coordinator Mark Fancey told the Itemizer in 2014. "Two guys make a loud sound. They get the crowd moving."
Monmouth will host Pigs on the Wing, a Pink Floyd tribute band, on Aug. 20 in honor of the Great American Eclipse.
River's Edge Summer Series Schedule:
Riverview Park Amphitheater, Independence
Music
July 14 — Ty Curtis (blues) 7:30 p.m.
July 21 — Generation Idol (Billy Idol tribute band) 8 p.m.
July 28 — 5 Guys Named Moe (show band) 7:30 p.m.
Aug. 4 — Shoot to Thrill (AC/DC tribute band) 8 p.m.
Aug. 11 — Schwing Band ('90s-era rock) 7:30 p.m.
Aug. 18 — Aerosmith Pump (tribute band) 8 p.m.
Aug. 19 — Pyromania: The Def Leppard Experience (tribute band) 8:30 p.m.
Aug. 25 — Chance McKinney (industrialized country) 7:30 p.m.
2017 Monmouth Music in the Park Schedule:
Main Street Park Amphitheater
Wednesdays, 6:30 p.m.
Music, food, beer and wine garden
July 5 — Shinkle Family Band (folk, country).
July 12 — Wildwood Allstar Revue (rock).
July 19 — Hillstomp (blues).
July 26 — Jenny Don't and the Spurs (country).
Aug. 2 — Sol Seed (reggae).
Aug. 9 — Cascade Crescendo (jamgrass).
Aug. 16 — Root Jack (rock).
Aug. 23 — Dina y Los Rumberos (Cuban salsa).
Aug. 30 — Coming Up Threes (Celtic).
Films (Showings begin at 9:45 p.m. in July and 8:30 p.m. in August)
July 13 — Finding Dory, PG.
July 20 — Lego Batman, PG.
July 27 — Moana, PG.
Aug. 3 — Ghostbusters: Answer the Call, PG-13.
Aug. 10 — Kong: Skull Island, PG-13.
Aug. 17 — Star Trek Into Darkness, PG-13.
Aug. 24 — Beauty and the Beast, PG.
Sounds of Summer
2017 Schedule:
Most of the music scheduled for Sounds of Summer is in conjunction with celebrations. The bands were not updated on the chamber's website at press time. For event schedules, pick up the Itemizer-Observer as the events get closer.