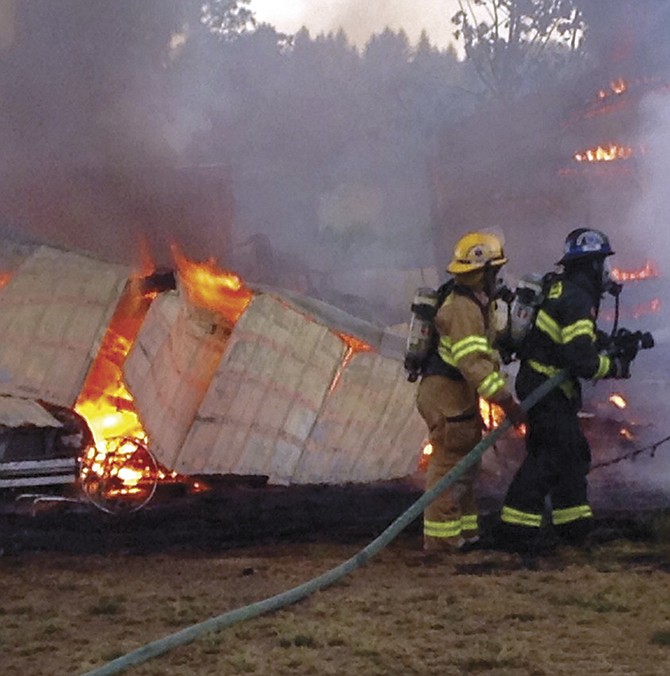 POLK COUNTY — Two of four fires in two days from July Fourth through Thursday were sparked by cars driving on fields, said April Welsh, spokeswoman for Dallas Fire & EMS.
"Our conditions are already getting pretty dry," Welsh said. "We had significant rainfall this winter, but that has allowed vegetation to grow. Now that it's getting warmer, the warm temperatures and the winds are causing things to dry out."
The call for the first fire on July 4 came in just before 3 p.m., Welsh said.
"It had the potential to be fairly substantial in size," she said.
People were driving to a vineyard on Crowley Road and may have gotten lost, so turned around in a field. The car caught the field on fire. Welsh said, "It was a total accident."
Thirty firefighters and eight apparatus responded to the roughly 2.5-acre field fire. The rye grass was not combined yet. Loss was about $2,800, Welsh said.
"One thing that was kind of unique about this fire is it started out as a fairly small fire, but it was pushed by the wind," she said.
Polk County Sheriff's deputies, Southwest Polk Fire District, Oregon Department of Forestry, Polk County Fire District No. 1, Sheridan Fire and Amity Fire assisted at the scene.
A barn fire in the 1800 block of Falls City Road in the early hours on Thursday was deemed as being caused by electrical issues, Welsh said.
"That call came in at 5:30 a.m.," Welsh said. "The property owner woke up and found his barn fully involved in fire and called 911."
The barn did not have any animals inside. It had three vehicles, storage and a semi-trailer which were all damaged.
"It made it more challenging," Welsh said. "When our firefighters arrived, the shop was fully involved, so at that point, they had to take a defensive-type approach and protect the property around it and control the fire itself. There was no way they were going to be able to do an interior attack on that."
In total, 20 firefighters battled the barn fire, all from Southwest Polk, Dallas Fire, Falls City Fire and Polk No. 1. The barn and contents are a complete loss, estimated at $25,000, Welsh said.
Two smaller fires broke out on July 5, Welsh said. One was a burn pile that got out of control. The other was caused by a vehicle in a field.
No firefighters were injured in any of the fires from July 4 through 6, Welsh said.
A countywide burn ban was initiated on July 3, Welsh said.
"Even though we did have the rainfall (this winter and spring), it's not going to be enough to saturate the ground at this point," Welsh said. "Our area is agriculture. We're going to start into harvest season real soon. We need to make sure people are really cautious with their farm equipment, where they're driving, dispose of cigarettes properly, and discourage people from burning anything."
When possible, mowing should be done in the morning while there is dew on the ground, Welsh said. If a fire does start, call 911.
"Do not hesitate to call 911," she added. "The quicker we can get there, the quicker we can get their fire under control. There've been some cases when people have tried to put out their own fires. We can come with more people and more equipment. Just call 911. Don't hesitate."