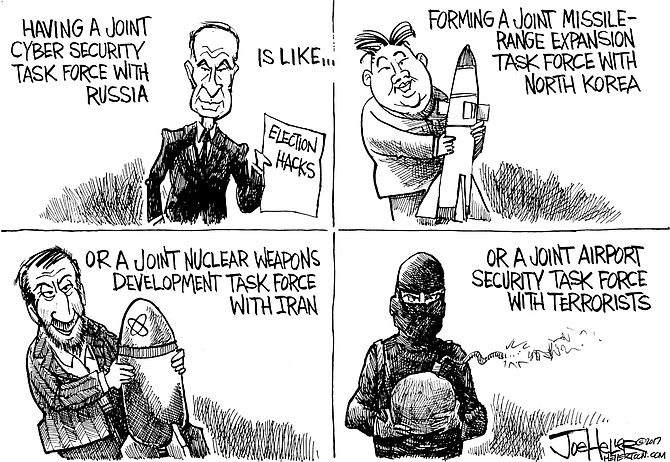 Science doesn't judge, it observes
Oh dear, Mr. Davies, I am quite confused after reading your opinion on global warming in the June 28 paper.

It seems that the argument about the planet's warming and cooling periods and the cyclical nature of these phases on the earth, brought to you by recent centuries of scientific research, observation, experiments, publishing findings, peer review, more experiments, etc., until gradually over time the entire warming and cooling periods and the effect these periods have on our planet, humanity, animals, plants, all are valid in the discussion.
Yet the very same scientific processes that have been discovering, documenting, experimenting, publishing, reviewing, and explaining the effects of global warming on our planet, humanity, animals, plants, are not valid.
I don't know that one could use scientific findings of a previous time to disclaim the scientific findings during this time.
If indeed science has truly discovered the warming and cooling cycles of the earth, does it not also make sense that science would discover when the earth is in distress in those cycles from manmade influences?
Science does not judge. Science observes and measures and shares its conclusions. What we do with those newly found facts belongs to us. Not to science. Science has and is continuing to do its job in documenting and telling the news of global warming that is here.
Our Creator gave us the gifts of science and faith. With the two together, we can move forward to keep our planet healthy and in a good working order for humanity's future.
Diane McBurnett
Monmouth
Cellphone sting could bring revenue
So, I'm pretty sure it is no secret that it is illegal to talk or to text on a hand-held cellphone while driving. Why is it then that when I'm out and about I observe far too many drivers ignoring this law? Come on folks, hang up and drive.
Here's an idea, have a plain clothes police officer on a random day in a random place photo ticketing once a week. I'm guessing it wouldn't take long to be so flush with cash that no program or department would be wanting for anything. There would never again be the need to ask the taxpayers for a bond measure. We could build that jail, put the new roof on the current one, hire those extra officers, do the courthouse annex, fund all of the public safety departments, take care of the fairgrounds facilities and probably have funds left over.
Julianna Burke
Independence
Mini-Marathon smashing success
On behalf of the 47th annual Fourth of July Mini-Marathon planning committee, we would like to thank all the volunteers who helped make this a fun event.
Specifically, the Central Lions Club, the staff at the Independence library, the Folck Family, Jacob Welch, Carol Rose, Kelly Rockwell, Cody Black, Bill and Linda Lindh, the Kelly family, the Cable family and other volunteers for assisting with day of race registration, water station, and the finish line.
We would also like to thank all the businesses that donated water and prizes for our finish line raffle. We had over 400 people register this year. All proceeds from this event go to support local nonprofits and scholarships.
We hope you'll consider participating next year.

Jennifer O'Sullivan
Independence
Veteran recounts Honor Flight
On June 23, I was a very happy World War II veteran. My doctor, Dr. Edwardson, recommended me to the Honor Flight TLC program. This is a nonprofit program which honors veterans from WWII, Korean and Vietnam wars by giving them a free trip to Washington, D.C., to see all of the national war monuments.
First stop was the WWII Monument, built in 2004, a beautiful fountain in the middle surrounded by pillars representing each state.
They didn't rush us back to the bus. We got to sit and view the monument. While sitting there under the shade trees, many people would come to us and shake our hands to thank us for our service. Young children would come to us as well as older people.
People knew we were veterans because Honor Flight gave all the veterans a T-shirt labeled, "Veteran." On the back of the shirt there were two quotes which read, "If you can read this, thank a teacher," and "If you can read this in English, thank a veteran."
We traveled to the Lincoln, Vietnam and Korean memorials. The Navy Monument was next. Then they took us to the Arlington National Cemetery where we saw the changing of the guard. We saw the Iwo Jima statue, then the Air Force Monument, where we all got out of the bus and had a group picture taken to remember the trip. There were 20 veterans and 20 guardians on this trip.
Thanks to Honor Flight's Diane and Jane, plus 20 volunteers who helped us at the airport, pushed us in our wheelchairs, and helped us in and out of the bus.
Thank you Dr. Edwardson for suggesting this, and the Honor Flight program that gives veterans this chance in a lifetime.
Melvin Olfert
Dallas