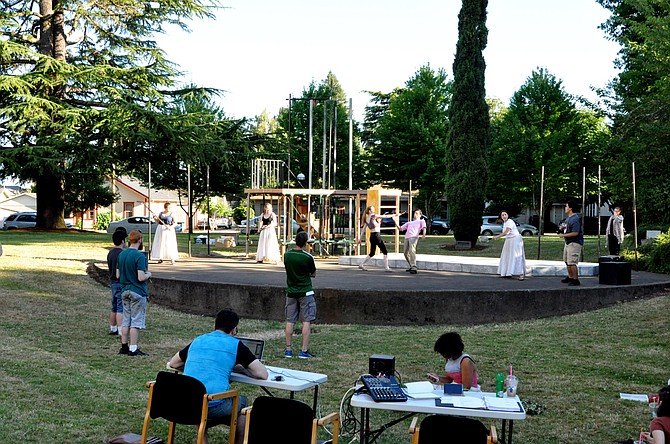 MONMOUTH — Comedy and heroism will seize the Leinwand outdoor stage on Thursday as Valley Shakespeare Company at Western Oregon University opens their third summer show.
This year the company is putting on its rendition of Shakespeare's "Much Ado About Nothing," which will be set in the wine country of 1890s Italy.
The story, which the company's press release describes as a "romantic tragicomedy" has been cut down to a running time of two hours and 15 minutes, including intermission.
"It's a great show; it's one of Shakespeare's most popular shows," said director David Janoviak. "It's a nice bit of entertainment for the whole family."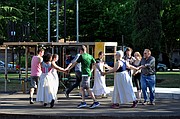 The show isn't only fun for the audience, but for the student, community and professional actors who work on the show, as well.
See the show
What: Valley Shakespeare Company presents, "Much Ado About Nothing."
When: Thursday through Sunday and Aug. 3 through 5. Show starts at 8 p.m.
Where: Western Oregon University's Leinwand outdoor stage, in front of Rice Auditorium.
Admission: Free.
Of note: Bring your own seating — lawn chairs or blankets. Picnics are encouraged.
This year the company is joined by two professionals: DeMara Cabrera, costume designer, and Ted deChatelet, who will portray Don Pedro on the stage.
"The summer shows are really fun because most of us are still college students, so it's interesting to see what kind of contemporary quirks we bring to certain parts," said Gabriel Elmore, who plays Benedick. "We don't get to do a lot of classical stuff (at Western), and I really enjoy doing Shakespeare, so the fact that we get to do it, not only outside, but also in the summer is just an added bonus."
The mix of students, community members and professionals who work to pull the show together in a short amount of time can also be a struggle for the greener talent.
"It definitely pushes you as an actor," said Phoebe Thompson, who plays Hero. "This is the farthest I've ever been pushed and, though stressful, it's good."
"I enjoy seeing people from the community come in and work with us because it's a different experience, and you learn different things from different people," added Janelle Rae Davis, who portrays Beatrice opposite Elmore.
The show is full of fun and surprises for those who are both new to theater and Shakespeare buffs.
Those who have seen the show before are encouraged to come see the "nonsensical and vibrant" production, as Davis described it, at Western for an entertaining new take on the classic work.
"The Dogberry crew is neat because they're all females rather than being all males, so it's a different dynamic," said Davis.
"One thing the director has been very, very adamant about is Claudio not being the stereotype of love," said Hunter Atkin, who plays Claudio opposite Thompson. "So, he's definitely changing it a bit to be less stereotypical, which is kind of cool."
Beside the content changes, the atmosphere of an outdoor performance is much different from the traditional auditorium setting.
"You could picnic while you watch a show," said Elmore, enthusiastically.
"You could bring dogs," added Davis.
This year, for the first time, the summer production will run two weekends; this Thursday through Sunday and Aug. 3-5, beginning at 8 p.m.
All performances are free and open to the public, but seating is bring-your-own. Audience members are encouraged to bring picnic blankets and lawn chairs.