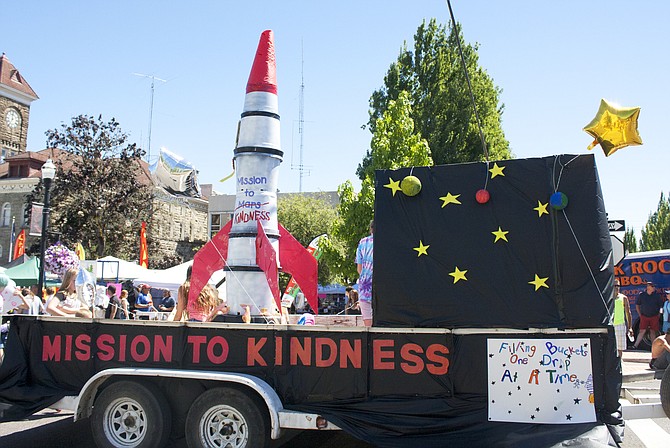 DALLAS — Four, three, two, one.
Summerfest 2017 is about to blast off for "A Space Adventure" on Thursday and, you should be along for the ride.
This year has a few new events, including live-action role play lessons and battles, and the return of something from Summerfest past, the three-on-three basketball tournament.
Believe it or not, the space adventure theme coinciding with the solar eclipse happening just a few weeks after the festival ends is a coincidence.
"We put a vote out last year after Summerfest and asked, 'What would you like the theme to Summerfest 2017 to be?'" said Bonnie Dreier, the Dallas Area Visitors Center programs and events manager. "People just started throwing ideas out. A Space Adventure and 1950s Sock Hop were pretty close, but Space Adventure took it."
That vote took place before the Great American Eclipse fever outbreak.
"It was perfect," Dreier said.
Summerfest opens at 11 a.m. Thursday and will spend three days occupying downtown Dallas, bringing food and merchandise vendors, entertainment and a National Guard demonstration tent that is, yes, air-conditioned.
Local "larping" group Amtgard is offering three days of live-action role play lessons Thursday through Saturday, ending with an epic battle on Saturday afternoon.
Returning to the schedule is the three-on-three tournament. An alumni game will kick off the fun on Friday night, with the tournament beginning in earnest on Saturday morning.
The Dallas Fire Department is not to be left out, with it always entertaining, and possibly drenching, waterball contest Friday night at 6 p.m.
Saturday evening boasts yet another new event, the SummerQuest Scavenger Hunt, hosted by the Dallas Booster Club. The quest, which replaces the fun run, begins at 5 p.m., so bring your team (up to six people) and your smartphone to get clues on the course.
West Valley Taphouse will provide a brew for each participate — beer for adults and root beer for those not yet 21 — at the end and just in time for the downtown close-out party featuring Prince tribute band Erotic City.
"It should be an awesome ending to a crazy Summerfest," Dreier said.
Sunday, Summerfest moves to Dallas City Park for Breakfast in the Park, the Tom Newton Memorial Car Show, Art in the Park and a second edition of Polk County Bounty Market.
But if you see nothing else at Summerfest, come to the main event — Saturday's parade starting at 11 a.m. in downtown Dallas. Stake out your spot early, sit back and enjoy the festivities, which are sure to be out of this world.
Check the schedule of events here:
http://www.polkio.com/documents/2017/jul/28/summerfest-2017/.
Share your photos with us on Facebook, Instagram and Twitter using the hashtag #DallasSF2017.