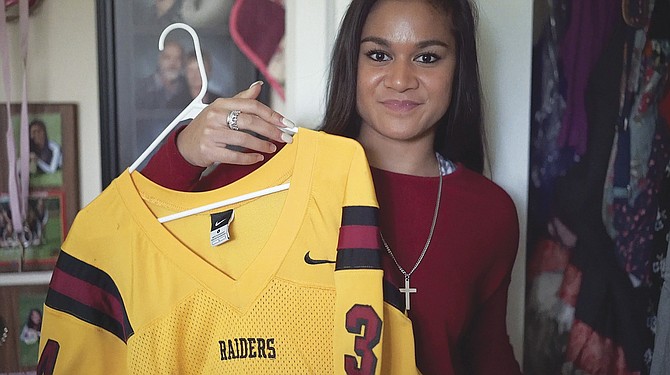 POLK COUNTY — Mid-Valley Suicide Prevention Coalition produced two videos of the stories of local people who lost a family member to suicide.
Those videos have been viewed nearly 60,000 times.
You can help
Mid-Valley Suicide Prevention offers suicide prevention training in two classes:
• "Question Persuade and Refer," or QPR, a free one- to two-hour workshop. The next dates are Thursday and June 27.
• Applied Suicide Intervention Skills Training, or ASIST, is a two-day training, which costs $100. The next dates are Sept. 28-29.
For more information or to learn more about Roseanna Larson and Falute Maitland, go to: mvsuicide
prevention.com/resources/display/Home.
"These days there's a lot of talk just out there online about suicide, so we are trying to get a message out there to reach as many people as possible," said Doug Gouge, the coalition program supervisor.
The message is that it's OK to talk about suicide if it's affected you, and it's OK to seek help if you are contemplating suicide. The hope is that talking will save lives.
"For many of us, suicide is an uncomfortable topic. There is often a fear that talking about suicide might cause someone to take his (or) her life. This simply is not true," said Rosanna Larson, whose father, Charles Chambers Jr., took his own life in 1990.
He was 45.
In the video, released on Facebook on April 17, Larson describes how her father battled depression for years.
Shortly before taking his life, Larson, of Monmouth, said her father asked her and her husband to take him for a drive. He spent the time giving them life advice, and Larson said it felt like he was saying goodbye.
"I think of all the things he's missed and the things that we've missed," she said.
The coalition produced a second video released on May 8, which featured Falute Maitland, whose brother, Seniu Maitland, killed himself in 2016.
He was 18.
Seniu played football — and was the 250-pound giant that would help up every guy he tackled. People called him "a big teddy bear," Falute said in the video.
She said her brother struggled to feel loved or that he had potential for anything.
"Knowing how much he was struggling to find hope made me want to care for him even more," she said.
Falute, of Corvallis, believes training people to recognize the signs and what to say to someone could prevent suicides.
"If we all pitch in and learn a few things here and there about suicide prevention, we could save many people," Falute said.
Both videos include the hashtag #OK2ASK, which the coalition has been using for 10 months. To see the videos, go to www.facebook.com/midvalleysuicidepreventioncoalition/.
This August or September, the coalition will release a third video, this one from the perspective of high school students with the message that people fighting depression or thinking about suicide are not alone.
"It's a project we worked on with Central High School, specifically with the Power Peers class, which is a non-traditional leadership class," Gouge said. "One of the reasons that we are a little extra proud of this video is that this video actually started with student ideas, so students were involved in this process from the beginning all the way to the end."