John Danielson, 17, of Independence, will receive his Eagle Scout at an Eagle Court of Honor on July 8.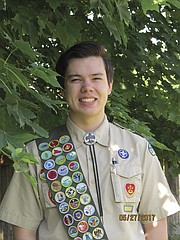 John started Cub Scouts when he was 7. Through dedication, hard work and perseverance, he reached his goal of Eagle.
For more than 10 years, John participated in various scouting activities and contributed many hours to the local community. He volunteered gathering canned food for the food bank, planting trees on Arbor Day, guarding the park for the vendors during Fourth of July, and putting flags out during special holidays. Under John's leadership and teamwork spirit, he completed his Eagle project by reconstructing the 200-foot brick pathway at the Historic Gentle House in Monmouth.
John and his parents would like to thank Pack 38 and Troop 38 Scout leaders, John's fellow Boy Scouts, friends, family and teachers who supported him along the way.