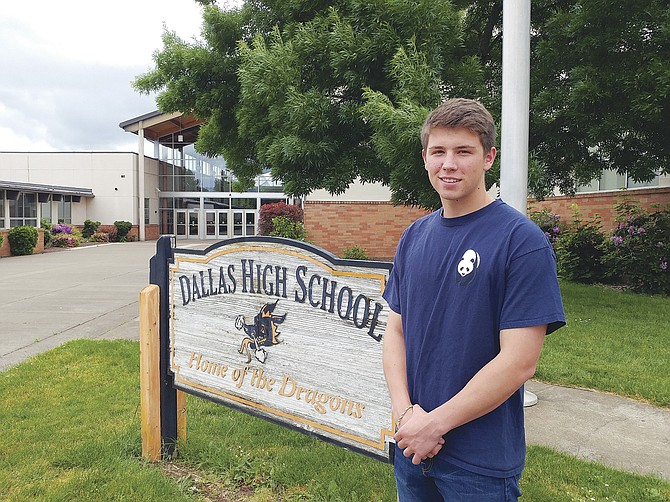 DALLAS — Cooper Dodge, a Dallas High School senior about to graduate Saturday, has a drive to help others — and often without it being recognized.
Good luck DHS grads
What: Dallas High School Class of 2017 graduation.
When: Saturday, 2:30 p.m. Gates open at 1:30 p.m.
Where: 1250 SE. Holman Ave.
"That's one of the pieces that sticks in my mind with Cooper," said Steve Spencer, DHS principal. "The school went through a difficult time not too long ago and I received one email from Cooper and it was specifically just asking, 'What can I do to help?' He's got that mind to look out for kids and find way to support and help them."
Dodge has played football, baseball and golf throughout his high school career, but his favorite activity had nothing to do with competition.
He excelled in the school's leadership class. Dodge has been in the class since his freshman year.
"I felt like I could have a say in the school and I could change it," he explained of his interest in leadership. "I could be positive to other people and influence others. I wanted to be a role model to others."
This year, Dodge served as the senior class public relations representative.
"I'm able to connect to a lot of different people that I normally wouldn't connect to outside of school," he said of his role this year. "It's nice getting to know other people and helping the school."
And students at other schools.
Dodge was part of a group of high school students who mentored students at Whitworth Elementary School.
"Last year, we went over to Whitworth and we mentored kids who were having a difficult time, and I felt like I had a decent impact on their lives because I was able to connect with them," Dodge said. "I don't think they had the greatest home life, so I was their role model. They were looking up to me and it was really reassuring because I felt like I was doing something to benefit them."
Spencer said he's known Dodge since he was playing youth football and remember him as a student who was highly involved in his school and community.
Continued from Page 16A
The only thing that is missing is the accolades for his noteworthy actions and accomplishments, Spencer said.
"There's no reason why Cooper should've have been involved in that, but for some reason hasn't," Spencer said. "He's had his share of obstacles to overcome, just like every other kid, but just meets them with that boyish grin."
Now Dodge is eager to take that drive to help others out into the bigger world. After graduation, he's headed to Oregon State University Cascades campus in Bend to study social sciences.
He plans to use the degree in a career in law. Dodge said he was inspired by his mom, a parole and probation officer.
Dodge said he will miss the close-knit nature of DHS and the Dallas community. But that's something he will take with him to start the next chapter.
"I've learned a lot about supporting each other, so anyone who needs help, I'm willing to give them a hand. I've been on the receiving end of that and it means so much," Dodge said. "There's so many people out there that you wouldn't realize that have your back. It feels really reassuring to know that people really do care about each other."