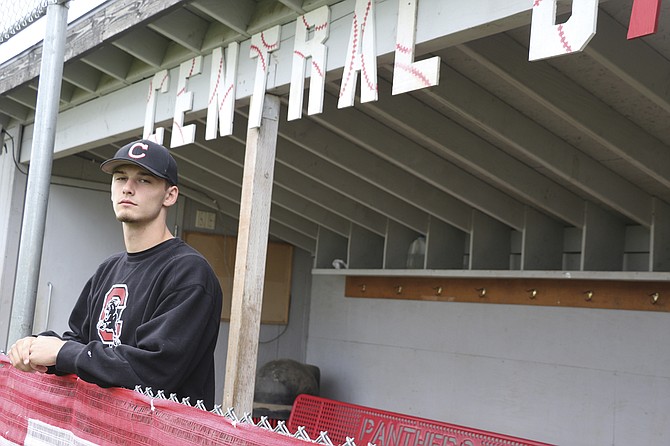 INDEPENDENCE — Baseball is practically a part of Central's Jackson Holstad's DNA by this point.
"I remember my family used to go to Volcanoes games all the time," Holstad said. "My mom had some hookups and got us in the middle of the sky box. I always looked up to those guys playing at that level and thought, wouldn't it be great to do that one day?"
Holstad's love of baseball has only grown.
During his senior season with Central's baseball team, Holstad took his game to a new level. He led the team in batting average (.442), hits (38), RBIs (23) and home runs (6), as well as provided a steady rock in the outfield. Simply put, Holstad was a one of a kind presence.
"Nobody in the region put up numbers like Jackson did," Central coach Reed Rainey said.
His ability to spark the Panthers no matter what he's doing makes him the Itemizer-Observer's 2017 Player of the Year.
Throughout his high school career, Holstad has treasured each moment he shared with his teammates. This spring was a little different, though.
"Being a senior, you realize the importance of the games and how I'd never get the feeling of playing for the school and your hometown again," Holstad said.
Representing himself, Central and the community wasn't a responsibility he took lightly.
From those early days watching Volcanoes games, Holstad began learning what it took for players to play professionally.
The amount of hard work and dedication required to even have a chance may have scared some away, but the grind appealed to Holstad.
"That always inspired me," he said. "I think baseball players are some of the hardest-working guys out there. I love baseball so much that the grind is awesome whereever I'm playing and whomever I'm playing with."
That hard work was evident in Holstad's evolution as a player in high school.
Holstad got stronger as he got older, and this past offseason, spent countless hours in batting cages.
The result was an increase in batting average, home runs and RBIs from his junior season.
"I'm always looking to improve," Holstad said. "I'm far from the perfect player."
Holstad will get a chance to continue his evolution in college. He will play at Chemeketa, along with teammates Luis Amador and Humberto Alarcon.
"It's huge (to know people in the program," Holstad said. "I talked to a few guys who are on the team already who are pretty good friends of mine, and to play with Luis and Berto is great."
The trio considered a number of options. At least for Holstad, one major thing stood out about Chemeketa.
"There's a blue-collar atmosphere," Holstad said. "They're a hard-working group. You have to earn what you get. That was enticing to me."
Holstad will spend the summer playing American Legion baseball. Though his high school career came to a close, he's excited to see what the next chapter of his baseball life will bring.
"I know I'll be playing a little while longer," Holstad said. "I'm not holding anything back."