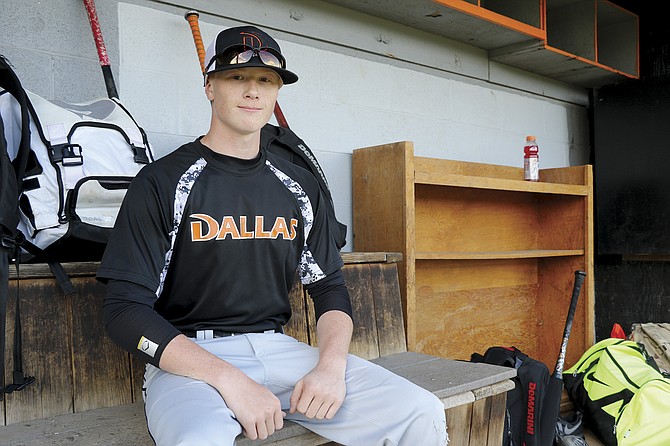 PITCHER
Jaret Stewart
Dallas
The junior was Dallas' best pitcher throughout the spring. Stewart went 6-1 in 11 starts and threw 71 2/3 innings. He threw 63 strikeouts. "He's our best pitcher," Scot McDonald said. "He had big wins for us, makes great pitches and gives us a chance every time on the mound. He wants the ball and delivers." Stewart was named second team all-league.
Humberto Alarcon
Central
The senior pitcher was the Panthers' go-to starter during the 2017 campaign. He led the team in innings pitched (44 1/3) and strikeouts (45). His ERA of 1.4 ranked second among Central pitchers with at least 10 innings of work and was also second in saves (two). Alarcon also more than held his own at the plate, recording 17 hits and 11 RBIs. Alarcon received first team all-league and all-state honorable mention for his performance during the spring.
INFIELD
Eric Kessler
Dallas
Kessler, a sophomore, made some strong plays at shortstop. "He has great feet and speed and makes plays others don't," McDonald said. Kessler was also a force with his bat. He had 33 hits and 15 RBIs with a .359 batting average. "He has an awesome leadoff and jump starts the offense," McDonald said. "He's a great player." Kessler received second team all-league honors for his performance, and he figures to remain a key cog for the Dragons going forward.
Luis Amador
Central
Amador, a senior, was once again one of the Panthers' top threats at the plate. Amador ranked second on the team in batting average (.405), hits (34) and RBIs (22). Amador also was a steady hand at first base that helped make him essential to Central's success during the 2017 season. Amador did a little of everything, including pitch for 9 2/3 innings, where he had a 2.1 ERA. Amador earned first team all-league and all state honorable mention. District 2 recognition.
Clay Coxen
Dallas
The senior first baseman was one of Dallas' most clutch performers. Coxen hit .347 with 24 RBIs and he also drew 21 walks. Coxen provided the Dragons with power at the plate with a pair of home runs. "He's a powerful, lefty bat," McDonald said. "He comes through in the clutch and can get hits whenever we need them." Coxen earned an all-league honorable mention for his efforts in 2017.
Peter Mendazona
Central
The junior played dual roles on defense for the Panthers, serving as starting shortstop and a relief pitcher/closer. Mendazona excelled in both roles. Mendazona was first on the team in saves, going a perfect four-for-four in save opportunities. He was second on the team in strikeouts (43) and had an ERA of 2.1. Mendazona was also a dangerous weapon at the plate. He ranked third on the team in hits (28) and was second in runs scored (19) and was named first team all-league.
OUTFIELD
Jackson Holstad
Central
The senior was the Panthers' most dangerous bat at the plate and one of the most consistent players on defense. Holstad hit .442 at the plate, recording 38 hits and 23 RBIs. Holstad was also Central's most powerful hitter. He led the team in home runs (six) and triples (three). Holstad was named first team all-Mid-Willamette Conference and first team all-state and became part of the foundation for Central's success during the 2017 season.
Haylen Janesofsky
Perrydale
As Perrydale continued to build its program, Janesofsky stood out at the plate and in the outfield.
The first team, all-league selection hit .429 during his senior season and had 18 stolen bases and 17 RBIs. "He had a great second half of the season," coach Steve Mabry said. "He was a presence at the plate and has speed and power." In the outfield, he had a .982 fielding percentage and could quickly cover long distances in the outfield and had the arm to make the necessary throws to get a runner out or stop him from advancing. "He was able to run down balls that others don't get to," Mabry said. "He has a great jump on the ball."
Tanner Earhart
Dallas
The senior had a strong season this spring. Earhart hit .404 at the plate with 36 hits and 31 RBIs. Earhart also had two triples and a home run. "He's powerful and dynamic and competes every at-bat," McDonald said. "Opponents have to pitch around and has great speed." Earhart, who earned first team all-MWC and second team all-state recognition, established himself as one of Dallas' leaders throughout the team's run to the state quarterfinals.
CATCHER
Treve Earhart
Dallas
Earhart was one of the Dragons' hardest workers during the 2017 season — and his results showed how that hard work paid off in a big way. Earhart hit .484 at the plate with 46 hits, including a home run, and 28 RBIs. He also had 18 stolen bases. But he may have had an even bigger impact behind the plate, where Earhart played catcher. "He shuts down run games, makes pitchers look better and squares the ball up at every at-bat," McDonald said. "He's a tough out, competes and shows up each day." Earhart was named first team all-MWC and second team all-state.
Daniel Domes
Perrydale
The senior catcher also served as the leadoff batter for the Pirates. That could be a tough combination for some, but it was a role Domes thrived in. "Dan was the on-field leader," Mabry said. "He has surprising power out of the leadoff spot and was a tough out that made pitchers work hard." Once Domes, who hit .396 with 12 RBIs, got on base, he was always someone opponents had a hard time keeping at first — Domes had 14 stolen bases. Domes was named second team all-league. "He was invaluable to the team in leadership," Mabry said.
COACH
Scot McDonald
Dallas
As Dallas' head coach, McDonald helped lead the Dragons to another successful season. Dallas finished the season 17-12 overall and 12-9 in Mid-Willamette Conference play, good for fourth place in the league standings. The Dragons defeated Ashland 5-4 in its state play-in game and advanced to the quarterfinals thanks to a 5-2 win over Hood River Valley in the first round.
—

The 2017 all-region high school baseball team was selected by Itemizer-Observer Sports Editor Lukas Eggen, along with heavy input from area coaches.