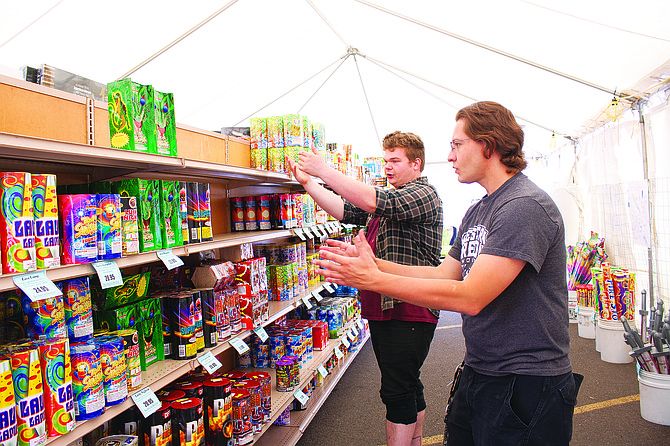 Fourth art show spans two days
Monmouth's July Fourth Festival hosts the Community Art Show on July 3-4 in the city's Main Street Park.
Artists are welcome to enter their work until 11 a.m. on July 3. All mediums will be accepted, by artists kindergarten-aged to professional.
Attendees of the show can vote for their favorite pieces in each of six categories for the "People's Choice" awards. Winning entries are slated for display at the Monmouth Public Library from July 5 through July 14.
To submit you work, bring it ready for display to the Art Show tent on July 3 from 8 to 11 a.m.
The show runs from noon on July 3 and 9 a.m. to 5 p.m. on Independence Day.
Entry forms are available at www.ci.monmouth.or.us.
Firefighters cook for a good cause
Start your Fourth of July on the right foot with a hearty breakfast, provided by Polk County Fire District No. 1.
The annual firefighters' breakfast is on Independence Day from 6 to 10 a.m. at the Polk County Fire Station. It's the biggest fundraiser of the year for the department's firefighters' association.
Come hungry because the menu includes healthy portions of pancakes, eggs, ham and coffee or juice. Some of the cooks have decades of experience perfecting the golden-brown flapjack.
In addition to a delicious breakfast, people can enter raffles for more prizes.
Cost for breakfast is $6 for adults ages 13 and older; $3 for children ages 6 to 12; and free for those 5 and younger.
For more information: 503-838-1510.
WV Concert band to perform in park
The Willamette Valley Concert Band will perform Monday at 6:30 p.m. at Monmouth Main Street Park's amphitheater.
There is no cost to attend.
The concert is part of Monmouth's Fourth of July celebration.
For more information: Richard Sorenson, 503-838-3474.